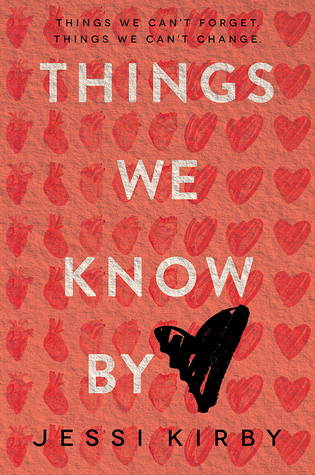 Title:
Things We Know by Heart
Author:
Jessi Kirby
Publisher:
HarperTeen
Release Date:
April 21, 2015
Source:
ARC provided by publisher in exchange for an honest review (
thank you HarperTeen!)
Summary from Goodreads:
When Quinn Sullivan meets the recipient of her boyfriend's donated heart, the two form an unexpected connection.

After Quinn loses her boyfriend, Trent, in an accident their junior year, she reaches out to the recipients of his donated organs in hopes of picking up the pieces of her now-unrecognizable life. She hears back from some of them, but the person who received Trent's heart has remained silent. The essence of a person, she has always believed, is in the heart. If she finds Trent's, then maybe she can have peace once and for all.

Risking everything in order to finally lay her memories to rest, Quinn goes outside the system to track down nineteen-year-old Colton Thomas—a guy whose life has been forever changed by this priceless gift. But what starts as an accidental run-in quickly develops into more, sparking an undeniable attraction. She doesn't want to give in to it—especially since he has no idea how they're connected—but their time together has made Quinn feel alive again. No matter how hard she's falling for Colton, each beat of his heart reminds her of all she's lost…and all that remains at stake
Review
Things We Know by Heart was SUCH an emotional read for me. You could literally feel the sense of loss and Quinn's struggle to move forward in each and every single page. It was palpable. And I could so understand that struggle. She lost someone who was a significant part of her life and her identity. She wanted to hold on to every piece of him that she had left but at the same time, it was that very thing that was crippling her. Every step forward took her one step further from Trent. So she stopped living.
Finding the recipients of Trent's organs was the one thing that gave Quinn solace. So when the recipient of his heart didn't respond, she was compelled to start looking for him. Quinn never expected to actually talk to him, let alone fall for him but fate had other plans. At first, being with Colton made Quinn feel closer to Trent, but it became so much more than that over time. He was the first thing in a long time that made her feel anything but sadness. Only Colton didn't know who Quinn really was and it got harder and harder for Quinn to tell him the truth.
My heart went out to Quinn and Colton as they struggled to heal. They both have so much pain in their pasts and I just wanted them to be OK again. Even more, I wanted them to be the ones to heal each other. They both had a great support system but they understand what the other was going through better than any outside. I just loved them together. The journey they went on together was difficult but so, so beautiful and honest.
Things We Know by Heart is easily a story that is going to stick with me for a long time. Jessi Kirby simply nailed it and I recommend this one without reservation.