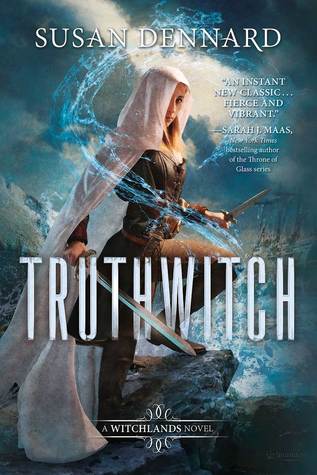 Title:
Truthwitch
Author:
Susan Dennard
Series:
The Witchlands #1
Publisher:
Tor Teen
Release Date:
January 5, 2016
Source:
BEA
Summary from Goodreads:
On a continent ruled by three empires, some are born with a "witchery", a magical skill that sets them apart from others.

In the Witchlands, there are almost as many types of magic as there are ways to get in trouble—as two desperate young women know all too well.

Safiya is a Truthwitch, able to discern truth from lie. It's a powerful magic that many would kill to have on their side, especially amongst the nobility to which Safi was born. So Safi must keep her gift hidden, lest she be used as a pawn in the struggle between empires.

Iseult, a Threadwitch, can see the invisible ties that bind and entangle the lives around her—but she cannot see the bonds that touch her own heart. Her unlikely friendship with Safi has taken her from life as an outcast into one of reckless adventure, where she is a cool, wary balance to Safi's hotheaded impulsiveness.

Safi and Iseult just want to be free to live their own lives, but war is coming to the Witchlands. With the help of the cunning Prince Merik (a Windwitch and ship's captain) and the hindrance of a Bloodwitch bent on revenge, the friends must fight emperors, princes, and mercenaries alike, who will stop at nothing to get their hands on a Truthwitch.
Review
There is always a certain amount of anxiety starting a really hyped book. Despite your best efforts, your expectations have likely gotten away from you and there is always that fear that you won't like it as much as everyone else. It's even harder when the author is an absolute sweetheart and you WANT to love it. When I started Truthwitch, I didn't understand the world at first, and I admit that I started to panic a little. But in the end, that was totally unnecessary. It didn't take me long to grasp the fundamentals of the Witchlands and who the key players were and once I had that understanding, it was all uphill from there. And I wound up LOVING this world. It is full of different kinds of magic and a rich history and I cannot wait to explore it more in the books to come. There is so much potential here.
Once of the best about this book is the friendship between Safi and Iseult. We meet these girls on the very first page and it's immediately obvious how strong of a bond they share. They are never apart for long and they always have each other's backs. It was a joy to see these girls in action - they've got some serious moves - and I love that their friendship was a focal point of this story. These girls exude some serious girl power and I think I have a girl crush on both of them.
Several people were after Safi and Iseult - for one reason or another - and the plot of this book was basically them running away from it all. It was quite the adventure with non-stop action, lots of magic, a bit of politics and an assortment of characters met along the way. First and foremost, there's the swoon-worthy Merik who is both a Prince AND a Captain and who helps the girls in their escape. His best friend and first mate Kullen, who is both mysterious and powerful, is also likely to cause a stir, as will Prince Leopold, whose allegiances are anything but obvious. But believe it or not, I think my favorite secondary character was the silver-haired Evrane, who was still fierce even in her old age and pretty much did whatever the hell she wanted. There were many interesting and moving relationships in this story that I can't wait to revisit!
So in the end, this book is definitely worthy of the hype. If you struggle with the world-building at first, like I did, make sure you power through because things will start to make sense before long and this book really does get better with every page. There are so many characters to love, moments to steal your breath away, and promises for things yet to come. Truthwitch laid an excellent foundation what is surely going to be an amazing new series. This one is a must read!