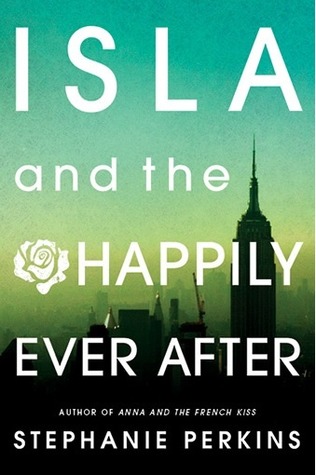 Title:
Isla and the Happily Ever After
Author:
Stephanie Perkins
Series:
Anna and the French Kiss #3
Publisher:
Dial Books for Young Readers
Release Date:
September 16, 2014
Source:
Purchased
Summary from Goodreads:
Love ignites in the City That Never Sleeps, but can it last?

Hopeless romantic Isla has had a crush on introspective cartoonist Josh since their first year at the School of America in Paris. And after a chance encounter in Manhattan over the summer, romance might be closer than Isla imagined. But as they begin their senior year back in France, Isla and Josh are forced to confront the challenges every young couple must face, including family drama, uncertainty about their college futures, and the very real possibility of being apart.
Review
Oh, Isla, Isla. Of course I loved this book. It's Stephanie Perkins! She provided yet another beautiful romantic adventure with lots of love, laughs and personal growth. I'm completely smitten, yet again.

As others have pointed out before me, Isla deviates from Perkins' previous two books in that Isla and Josh get together in the beginning. She's been pinning over him for years now and by a twist of fate, discovers that her feelings are reciprocated. And it's magical. Isla and Josh were unfreakingbelievably adorable together and I was smiles for days. But then some things ensue and Isla begins to doubt everything and then proceeds to ruin everything. This is where fans around the world wanted to shake some sense into Isla. But It wouldn't be a Perkins novel (or titled as such) if this book didn't have a happy ending. And a happy ending it was once Isla overcame her fears and insecurities. All of our favorites come together again - yes that means Anna, Etienne, Cricket, Lola, Isla and Josh. It was the perfect conclusion to a wonderful three books.

I loved Isla and felt the most similar to her out of all three girls. She was a little awkward and had these little freakouts over Josh that I could SO relate to (in fact I do this all the time). She also had a tendency to self-destruct because, as I mentioned above, she had a lot of insecurities and fears to overcome. She wasn't sure she was someone worthy of love. She had to learn to lover herself first. As for Josh, he was another swoon-worthy guy, of course. The artsy type! And so incredibly sweet. I can't decide which guy I like best! I love how Stephanie Perkins' writes perfectly imperfect guys and I love them all.
I loved this book when I first read it but I love it even more now after having recently attended Stephanie Perkins signing. She talked about her personal journey while writing these books and how the themes in Anna (bravery), Lola (embracing what makes you special), and Isla (learning to love yourself), reflect what she went through in her own life at the time. It put the books in a whole new perspective and I admire her for sharing something so personal.
Anna, Lola, and now Isla are some of my favorite contemporaries out there and I couldn't recommend them enough although I think their reputation is well known by this point. If you haven't started or finished these books yet, get to it!
PS: Fun fact - Stephanie Perkins' next book will be a horror. O_O