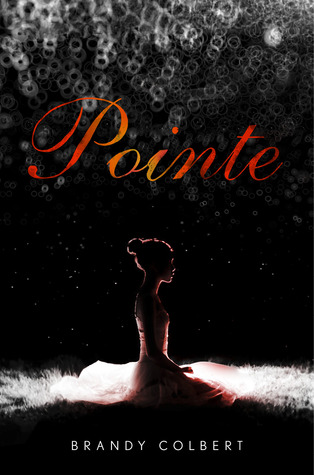 Title:
Pointe
Author:
Brandy Colbert
Publisher:
Penguin
Release Date:
April 10th 2014
Pages:
Hardcover, 352 pages
Source:
Library
Summary from Goodreads:
Theo is better now.

She's eating again, dating guys who are almost appropriate, and well on her way to becoming an elite ballet dancer. But when her oldest friend, Donovan, returns home after spending four long years with his kidnapper, Theo starts reliving memories about his abduction—and his abductor.

Donovan isn't talking about what happened, and even though Theo knows she didn't do anything wrong, telling the truth would put everything she's been living for at risk. But keeping quiet might be worse.
Review
Pointe was not what I was expecting at all, do not let the ballerina on the cover fool you. It was not a book about ballet with some side plots, Pointe took a serious and dark story line and supplemented it with some ballet as its bright light in the darkness.
Theo faces some personal struggles which include anorexia, low self esteem, and a bumpy sexual past. When her child hood best friend returns from four years of being held hostage by a kidnapper, Theo's life is turned upside down. Not only does she need to face her best friend, she has to face the kidnapper that stole her best friend from her.
If I were to describe Pointe in just three words it would be
dark issues book.
Theo is trying to overcome and conquer a lot all while dealing with this giant curve ball. I really felt for her, I wanted her to defeat all her inner demons and truly succeed. Pointe draws you in and really makes you feel for every character, whether it be a loathing hate, a sense of worry or a desire for happiness. The romance was a tornado of events all wrapped up in the overall 'issues' Theo was facing through the story.
My only reservation about the book was that it was quite heavy and had a lot going on in it. At times I felt weighed down by the darkness and sadness in the story. The ending left you feeling hopeful for Theo's future but not smiling with happiness.
Overall, I would recommend this if you are looking for a darker, intense read about one girl's battle against her many demons. There is a lot happening but it really makes for a powerful and real story.