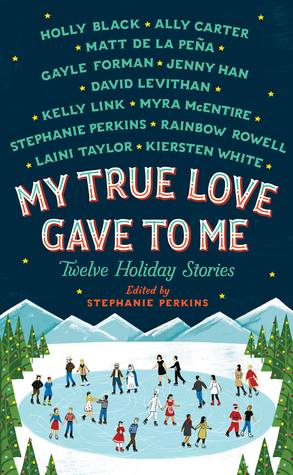 Title:
My True Love Gave to Me
Author:
Stephanie Perkins et al.
Publisher:
St. Martin's Press
Release Date:
October 14, 2014\
Summary from Goodreads:
If you love holiday stories, holiday movies, made-for-TV-holiday specials, holiday episodes of your favorite sitcoms and, especially, if you love holiday anthologies, you're going to fall in love with MY TRUE LOVE GAVE TO ME: TWELVE HOLIDAY STORIES by twelve bestselling young adult writers, edited by international bestselling author Stephanie Perkins.
Review
Midnights by Rainbow Rowell (5/5)
Really cute best friend turned boyfriend story set on New Years Eve over the course of a few years. It had all of the quirky adorableness that one would expect from Rainbow Rowell. One of my favorites!

The Lady and the Fox by Kelly Link (2/5)
This one was about a magical boy, a rich family and a girl that visited both every Christmas. It was a little difficult to read (flow wise) and got weirder as I read. This was my least favorite.

Angels in the Snow by Matt de la Pena (5/5)
A boy and a girl from very different backgrounds are snowed in at the same apartment complex over the holidays. To become acquainted, they each share something personal about themselves every time they meet. I really liked this one!

Polaris is Where You'll Find Me by Jenny Han (2.5/5)
A story about a girl living at the North Pole with Santa and his elves. This one had a somber undertone since Natalie, as the only human, was somewhat of an outcast. I like the setting but it was very short and ended abruptly. I expected more.

It's a Yuletide Miracle, Charlie Brown by Stephanie Perkins (5/5)
A girl with ulterior (but friendly) motives buys a christmas tree from a boy. One thing leads to another and it is the start of something special. In typical Stephanie Perkins fashion, this was a perfect romance :)

Your Temporary Santa by David Leviathan (3/5)
A quick story about a boy who, as a favor to his boyfriend, pretends to be Santa for his little sister. This was another one with a serious mood due to hints of abandonment and insecurity. Maybe too profound for me but powerful nevertheless.

Krampuslauf by Holly Black (4/5)
This story - with its drama filled, trailer-set NYE party and mature narration - was a refreshing change of pace. The incorporation of magic was a little unexpected but I liked that it was darker and more unusual (which fit the rest of the story). Basically, I really enjoyed this one!

What The Hell Have You Done, Sophie Roth? by Gayle Forman (5/5)
A girl and a boy, who both feel a little like outcasts at college, come together and realize that things aren't always as they first seem. Not only did this remind me of my first semester at UVa but I loved the touch diversity and simultaneously serious and light tone.

Beer Buckets and Baby Jesus by Myra McEntire (4/5)
A trouble-maker, who was first responsible for the destruction of the church nativity play, winds up being the one to save it, snagging the Pastor's daughter in the meantime. This one was full of snark and surprises and reminded me of the song "I'm Gettin' Nuttin' For Christmas". It was a lot of fun!

Welcome to Christmas, CA by Kiersten White (3.5/5)
Another story about first impressions being wrong and situations changing as a girl comes to appreciate her small town of Christmas, her job at the diner, and her parents. A cute, happy-go-lucky guy might have had something to do with it. This one had its moments and a great ending...

Star of Bethlehem by Ally Carter (3/5)
On a whim, a girl swaps plan tickets with another girl and pretends to be a foreign exchange student from Iceland to temporarily escape her old life. This one was mysterious as we didn't know what Lydia was running from until the end. The "coming home" message was nice, but a little insta-lovey.

The Girl Who Woke the Dreamer by Laini Taylor (5/5)
A girl wishes for protection from a dangerous man that wants to own her and in doing so awakens a dreamer. This story was the most fantastical and every bit as glorious and delightfully bizarre as the work Laini Taylor is known for. I loved it and I wanted more!

Overall, this collection of short stories was a lot darker than I expected it to be. The book felt dominated by family/friend issues and complicated pasts whereas I was looking forward to light, fluffy, festive, cute and romantic; although there was some of that. Despite that, there was a consistent theme of hope and love and the spirit of Christmas. And I really enjoyed the majority of stories. I'm glad I read this and would definitely recommend it to others.