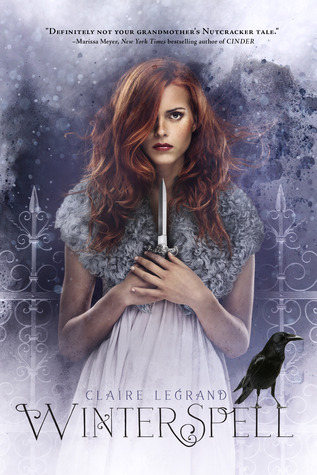 Title:
Winterspell
Author:
Claire Legrand
Publisher:
Simon & Schuster Books for Young Readers
Release Date:
September 30th 2014
Pages:
Hardcover, 464 pages
Source:
Bought
Summary from Goodreads:
The clock chimes midnight, a curse breaks, and a girl meets a prince . . . but what follows is not all sweetness and sugarplums.

New York City, 1899. Clara Stole, the mayor's ever-proper daughter, leads a double life. Since her mother's murder, she has secretly trained in self-defense with the mysterious Drosselmeyer.

Then, on Christmas Eve, disaster strikes.

Her home is destroyed, her father abducted--by beings distinctly not human. To find him, Clara journeys to the war-ravaged land of Cane. Her only companion is the dethroned prince Nicholas, bound by a wicked curse. If they're to survive, Clara has no choice but to trust him, but his haunted eyes burn with secrets--and a need she can't define. With the dangerous, seductive faery queen Anise hunting them, Clara soon realizes she won't leave Cane unscathed--if she leaves at all.

Inspired by The Nutcracker, Winterspell is a dark, timeless fairy tale about love and war, longing and loneliness, and a girl who must learn to live without fear.
Review
Winterspell was a captivating, magical, dark re-telling. It got a bit weird at parts but it was ultimately a pretty good story. Character wise, my favorite had to be Anise; she is a fantastic villain! She has weaknesses, a back story, and a soft side. Anise is overcome with revenge, hate, and power so she is a strong and well developed villain. Clara on the other hand got a bit annoying at times and was very quick to forgive Nicolas for his wrongdoings. The love story between the two was not my favorite for that reason; Clara's emotions towards him shifted so quickly throughout the story.
The writing was quite descriptive yet at points I felt like it caused me to lose my place. Some of the fight scenes were hard to follow, especially the first big magical fight scene. It was the introduction to this dark magical world and I would have like more explanation and clarity it to what in the world was happening. Once the initial explanations unfolded, the world building was well developed. It was dark, creative and well detailed, making it easy to visualize and immerse myself into the story. I really enjoyed the magical aspects but at times the plot seemed to drag. The ending was great, it was complete and brought all lose ends to a nice close.
Overall, I would recommend Winterspell if you are in the mood for a darker retelling with a well developed magical world. It does get slow at parts but in the end it is still a pretty enjoyable read!