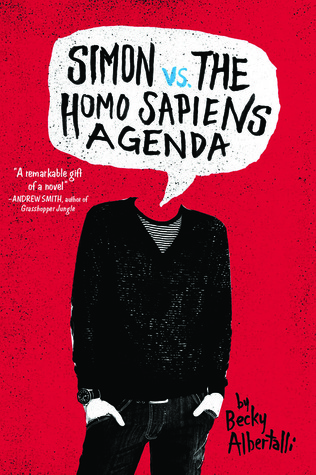 Title:
Simon vs the Homo Sapiens Agenda
Author:
Becky Albertalli
Publisher:
Balzer & Bray
Release Date:
April 7, 2015
Summary from Goodreads:
Sixteen-year-old and not-so-openly gay Simon Spier prefers to save his drama for the school musical. But when an email falls into the wrong hands, his secret is at risk of being thrust into the spotlight. Now Simon is actually being blackmailed: if he doesn't play wingman for class clown Martin, his sexual identity will become everyone's business. Worse, the privacy of Blue, the pen name of the boy he's been emailing, will be compromised.
With some messy dynamics emerging in his once tight-knit group of friends, and his email correspondence with Blue growing more flirtatious every day, Simon's junior year has suddenly gotten all kinds of complicated. Now, change-averse Simon has to find a way to step out of his comfort zone before he's pushed out—without alienating his friends, compromising himself, or fumbling a shot at happiness with the most confusing, adorable guy he's never met.
Review
Simon vs the Homo Sapiens Agenda was a breath of fresh air and not only for the LGBT genre, but for the contemporary and young adult genre as well. It was incredibly charming without even trying to be and unassuming in the best kind of way. I absolutely adored how Simon and Blue's relationship unfolded and finished this book with a big smile on my face. Really, I adored everything about this book.
Simon is gay but no one knows yet. It's not that he's ashamed of it or thinks that his family and friends will care, he simply doesn't want things to change and had no reason to come out yet. But then he meets and falls in love with a boy on the internet, a boy that goes by the name of Blue and happens to attend his school, and is blackmailed about it by a fellow student. This book follows the progression of these two events which eventually leads to Simon coming out, him establishing a new norm, and Simon and Blue living HEA. :)
The relationships in this book were realistically portrayed and ultimately uplifting. These characters were human - they did some things right and some things wrong but they were honest and apologetic and forgiving and so extremely likable. There was a lot of growth and learning, not just on Simon's end but among the secondary characters as well, which I thought was great. Simon has a great support system around him. But now for the heart of the book - SIMON AND BLUE!
Simon and Blue may make the most adorable couple ever. I loved their email exchanges and how honest they were with each other (except for the whole identity thing). I loved their flirtations and how their conversations slowly turned more serious. I loved when they finally met. It was so ridiculously perfect I can't even. And then they were so cute together in real life, it just made me sick, happy sick. They are the best.
I went into this book with really high expectations and Simon vs the Homo Sapiens Agenda exceeded all of them. It was just happiness embodied (except when I wanted to wring Martin's neck). If you are wondering whether or not you should read this book, the answer is yes, yes you should. Now excuse me while I go eat some oreos.