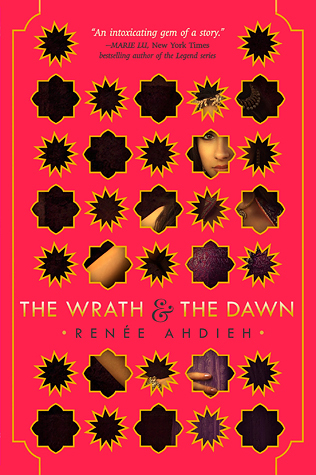 Title:
The Wrath and the Dawn
Author:
Renee Ahdieh
Series:
The Wrath and the Dawn #1
Publisher:
Putnam Juvenile
Release Date:
May 12, 2015
Source:
ALA MW
Summary from Goodreads:
A sumptuous and epically told love story inspired by A Thousand and One Nights

Every dawn brings horror to a different family in a land ruled by a killer. Khalid, the eighteen-year-old Caliph of Khorasan, takes a new bride each night only to have her executed at sunrise. So it is a suspicious surprise when sixteen-year-old Shahrzad volunteers to marry Khalid. But she does so with a clever plan to stay alive and exact revenge on the Caliph for the murder of her best friend and countless other girls. Shazi's wit and will, indeed, get her through to the dawn that no others have seen, but with a catch . . . she's falling in love with the very boy who killed her dearest friend.

She discovers that the murderous boy-king is not all that he seems and neither are the deaths of so many girls. Shazi is determined to uncover the reason for the murders and to break the cycle once and for all.
Review
So here's the deal. I know I give out a good number of 5 stars, apparently 32% according to Goodreads. That being said, even though I think every book I gave 5 stars to was deserving of it, I don't know how much my 5 stars are worth to ya'll anymore. But I would guestimate that of that 32% of 5 stars, I suffered a book hangover from maybe 5% max. AND I SUFFERED A BOOK HANGOVER FROM THIS BOOK. You guys, I am not even kidding you when I say that
I finished this book and immediately wanted to start from page 1 again
. And that NEVER happens. I am pretty much always on to the next book no matter the depths of my love which speaks volumes for this book. So for what it's worth,
you REALLY need to read this one
.
The Wrath and the Dawn was intoxicating.
That's the best way to put it. It starts with Shahrzad volunteering to marry King Khalid, even though he murdered every wife he married prior to her on the morning after. She's gambling her life on the fact that she can intrigue him enough to delay her execution long enough to kill him. And intrigue him she does. Shahrzad was enthralling.
She used every advantage she had to gain the upper hand and this woman was an arsenal.
Obviously the situation was complicated. Khalid's not the monster everyone assumes he is, but the truth is a closely guarded secret, one Shahrzad is determined to learn. I could root for Shahrzad all day and I enjoyed watching her strategize but I loved it even more when her feelings started to change from hate, to pity, to
something that takes your breath away
. The connection between these two characters could start a fire and I unquestionably loved them together.
Khalid made me swoon like only the best of them have
. I honestly couldn't get enough of either of them, individually and together.
I am always a fan of multiple POVs, but especially in cases like this one when it not only gives us a deeper understanding of a relationship, but also develops the story in other ways.
There is a growing rebellion in the kingdom, led by Shazi's childhood sweetheart
, in an effort to get her back. Through a few different POVs, we meet a variety of interesting characters, get a glimpse of some
dark magic
use, and watch the rebellion unfold. It was a
nice complement to what was happening in the castle.
But really, there was so much more that this book had to offer, I am only brushing the surface.
In summary, I loved everything about this book and it is
one of the best I have read in a while.
I devoured it and I loved every second of it. I think everyone should read this book, but if you like Fantasty and retellings, than it would definitely be a mistake to miss this one!
A new favorite!