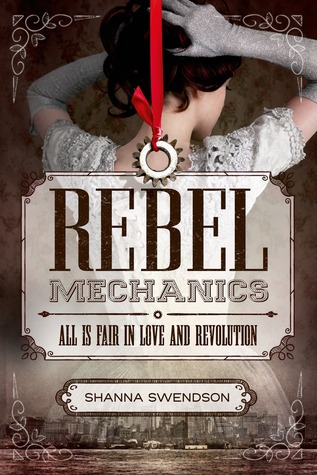 Title:
Rebel Mechanics
Author:
Shanna Swendson
Publisher:
Farrar, Straus and Giroux (BYR)
Release Date:
July 14, 2015
Source:
ALAMW15
Summary from Goodreads:
A sixteen-year-old governess becomes a spy in this alternative U.S. history where the British control with magic and the colonists rebel by inventing.

It's 1888, and sixteen-year-old Verity Newton lands a job in New York as a governess to a wealthy leading family—but she quickly learns that the family has big secrets. Magisters have always ruled the colonies, but now an underground society of mechanics and engineers are developing non-magical sources of power via steam engines that they hope will help them gain freedom from British rule. The family Verity works for is magister—but it seems like the children's young guardian uncle is sympathetic to the rebel cause. As Verity falls for a charming rebel inventor and agrees to become a spy, she also becomes more and more enmeshed in the magister family's life. She soon realizes she's uniquely positioned to advance the cause—but to do so, she'll have to reveal her own dangerous secret.
Review
There was nothing noticeably wrong with this book. The storyline was great - a group known as the Rebel Mechanics is trying to use the invention of machines to break the Brit's magical control over the colonies. Meanwhile, Verity, who recently landed a governess's job in a well-connected household, is recruited to spy for the cause and begins leading a double life. And along the way she discovers that her very handsome and intriguing employer has secrets of his own. It was all very well conceived and well paced and should have earned my full attention. But for some reason, it just didn't. And I can't really articulate why, which is the most frustrating part.
My best guess is that this book was more plot-driven than character-driven, which left me feeling disconnected from the characters and made the rest of the book fall flat. Things moved very quickly and I didn't feel like I spent enough time just getting to know Verity or either of her potential love interests for it to matter. This book might also be a case of an author "telling" vs "showing" because I just didn't FEEL it. There were plenty of scenes that should have had me anxious or smitten, or any range of emotions but they weren't there because
I
wasn't there
.
Ya know?
I believe this is the first book in a series, or at least it was written as such. And I can see myself reading the sequel - the ending was good and left much to be desired between two certain someones. I'm just not sure where it will fall on the priority list. Which is a shame because there really is a ton of potential here. That being said, I don't think you can go wrong reading this book, I just wouldn't expect TOO much and hopefully you will feel more than I did. It may very well be a case of "it's not you, it's me".