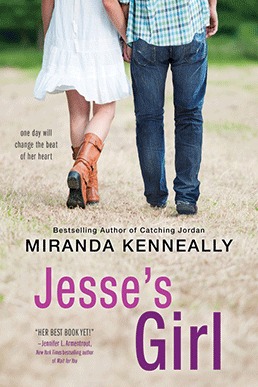 Title:
Jesse's Girl
Series:
Hundred Oaks #6
Author:
Miranda Kenneally
Publisher:
Sourcebooks Fire
Release Date:
July 7th 2015
Source:
Purchased
Summary from Goodreads:
Everyone at Hundred Oaks High knows that career mentoring day is a joke. So when Maya Henry said she wanted to be a rock star, she never imagined she'd get to shadow *the* Jesse Scott, Nashville's teen idol.

But spending the day with Jesse is far from a dream come true. He's as gorgeous as his music, but seeing all that he's accomplished is just a reminder of everything Maya's lost: her trust, her boyfriend, their band, and any chance to play the music she craves. Not to mention that Jesse's pushy and opinionated. He made it on his own, and he thinks Maya's playing back up to other people's dreams. Does she have what it takes to follow her heart—and go solo?
Review
I have a soft spot for books and movies that focus on a famous person falling for a non-famous person and Jesse's Girl does the popular trope justice! Jesse is a swoony guitar playing, songwriting, country music star and Maya is a high school student wanting to be a musician. I was immediately hooked; Maya and Jesse started off on rocky grounds because of his apprehension to new people who might be after just his fame. It is easy to understand and feel the distrust Jesse feels.

Maya is faced with trusting a person who has trust issue all while dealing with a failing band, an ex boyfriend, and a strong desire to keep playing music. I appreciate the choices and drive Maya exudes throughout the book. Maya wants to work for her goals even though she befriends Jesse. She has dreams and is willing to fit for them while trying to juggle a new complicated friendship. Jesse though, ahhh yes, he is gorgeous rock star that loves his family and wants to make Maya smile. The friendship and courting are on point, I love the cute gestures and mix of rockstar-like dates and fun average dates.

Jesse's Girl has adorable dates, spontaneous concerts, and an unlikely pair that put together make a fun music-filled read!