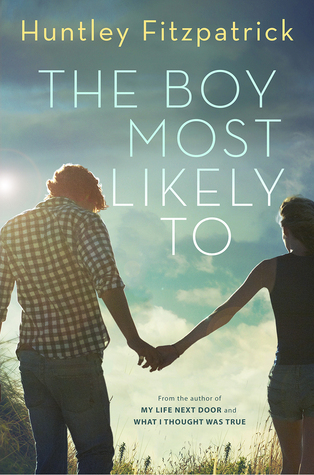 Title:
The Boy Most Likely To
Author:
Huntley Fitzpatrick
Publisher:
Dial Books
Release Date:
August 18, 2015
Summary from Goodreads:
Tim Mason was The Boy Most Likely To find the liquor cabinet blindfolded, need a liver transplant, and drive his car into a house

Alice Garrett was The Girl Most Likely To . . . well, not date her little brother's baggage-burdened best friend, for starters.

For Tim, it wouldn't be smart to fall for Alice. For Alice, nothing could be scarier than falling for Tim. But Tim has never been known for making the smart choice, and Alice is starting to wonder if the "smart" choice is always the right one. When these two crash into each other, they crash hard.

Then the unexpected consequences of Tim's wild days come back to shock him. He finds himself in a situation that isn't all it appears to be, that he never could have predicted . . . but maybe should have.

And Alice is caught in the middle.

Told in Tim's and Alice's distinctive, disarming, entirely compelling voices, this novel is for readers of The Spectacular Now, Nick and Norah's Infinite Playlist, and Paper Towns.
Review
To be honest, I am a little torn over this book. On the one hand, I was overjoyed to be back with this cast of characters. The Garretts are probably my favorite fictional family ever, and I freaking love Tim and Samantha too. I was also pleased to get resolution on a few loose ends from My Life Next Door, like Mr. Garrett's condition and obviously the mess that is Tim Mason (and his feelings for Alice). I loved Tim's voice in this book and I rooted for him as he figured his shit out. I also loved the relationship between Tim and Alice and adding her voice to the mix. These two could banter like nobody's business. And I love how Huntley isn't afraid to write sex-positive YA and how she fights stereotypes and tropes, which is evident in even the smallest of ways - like when Jase is telling Tim that his relationship with Sam is far from perfect and how Nan starts dating the person we'd least expect. I'm not sure I could ever NOT enjoy reading one of Huntley's books. I admire her work so much.
But on the other hand, I have to agree with some of the criticism. The biggest one being the unnecessary drama that enters Tim's life. There was plenty of story to be told without throwing in a curveball and having that become the primary plot focus. And then the way that it ended?!? I am both relieved and extremely pissed off. I am not totally against highlighting the consequences of Tim's lifestyle but I don't really agree with how it was done. I also wanted more resolution on the Samantha - Nan situation. I thought we were going to get it for a second there but alas, we didn't. Then again, I wouldn't be surprised if we get a third book from Nan's perspective. There is a lot to her story that we haven't been given. I would totally read it.
I am really sad I didn't love this one, especially since My Life Next Door is my favorite contemporary ever, but I am still really happy that I read it and had the chance to spend more time with these characters. I would also still recommend any of Huntley's books because I think she is extremely talented.