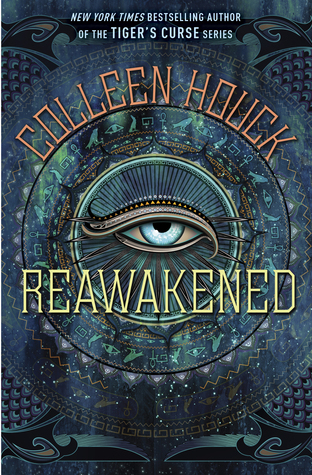 Title:
Reawakened
Author:
Colleen Houck
Series:
The Reawakened #1
Publisher:
Delacorte Press
Release Date:
August 11, 2015
Source:
Borrowed from Ash :)
Summary from Goodreads:
When seventeen-year-old Lilliana Young enters the Metropolitan Museum of Art one morning during spring break, the last thing she expects to find is a live Egyptian prince with godlike powers, who has been reawakened after a thousand years of mummification.

And she really can't imagine being chosen to aid him in an epic quest that will lead them across the globe to find his brothers and complete a grand ceremony that will save mankind.

But fate has taken hold of Lily, and she, along with her sun prince, Amon, must travel to the Valley of the Kings, raise his brothers, and stop an evil, shape-shifting god named Seth from taking over the world.

From New York Times bestselling author Colleen Houck comes an epic adventure about two star-crossed teens who must battle mythical forces and ancient curses on a journey with more twists and turns than the Nile itself.
Review
Reawakened was a bit on the slow side and I was unfortunately a bit distracted while reading it. I think that is why, if anything, I didn't LOVE this book because I can easily recognize that it was very, very well done.
I happen to be OBSESSED with everything that has to do with Egypt so this story was right up my alley. It was very detailed as it wove the story of three brothers who are reawakened every 1000 years to keep the God of Chaos at bay but I absorbed it all with fascination. And I never felt that the world-building was info-dumpy for those with less of an obsession to carry them through. It was just thorough. This isn't a fast-paced Fantasy, if that's your thing, but it was a rich and well-crafted one with enough excitement sprinkled throughout to keep the plot moving. I do agree with others that the second half is stronger than the first but I was never bored during the first half. Everything flowed nicely.
The characters in this book are really quite exceptional. They were thoroughly developed and Lily and Amon continued to evolve throughout the story. But I was most impressed by how Lily reacted to everything that happened to her. She didn't immediately accept all of the bizarre things that started happening when Amon showed up. Instead she tried really hard to rationalize everything she was seeing and when that failed she assumed she was crazy. I imagine I would have reacted similarly in her shoes. (Or maybe after reading so many books I would have jumped to the conclusion that Amon was a vampire. I guess I don't really know.) This rationalization also translated to her feelings toward Amon. She was obviously attracted to him but questioned her feelings in the beginning and whether or not they had any substance. I do still think that she formed extremely deep feelings for how little time they knew each other but all things considered it was a more natural progression of feelings than I am used to seeing.
The interactions between Amon and Lily were quite entertaining. Amon, having been dead the past 1000 years, is obviously a little flabbergasted at the modern world. Being half-god and all that, he's got some tricks up his sleeve to help him cope, but he still needs Lily to help him adjust and blend in. And Lily was quite sassy when it came to Amon, and everything else for that matter. She was a fun MC. The secondary characters were also strong. Amon's brothers, Asten and Ahmose were welcome additions to the story, attributing both humor and a steady dose of bromance. They would also make some serious eye candy were this book to ever become a film. I enjoyed their presence a lot and I hope to see their their characters explored more in the sequel.
I thought the story ended appropriately, if a little puzzling. There is a little promise of something to come but that we don't quite know the significance of. I can't wait to find out though!
This is my first experience with Colleen Houck's work but I can guarantee that it won't be my last. It was atmospheric, inventive, memorable and extremely well-written. I definitely recommend this one, especially if you love Egypt.