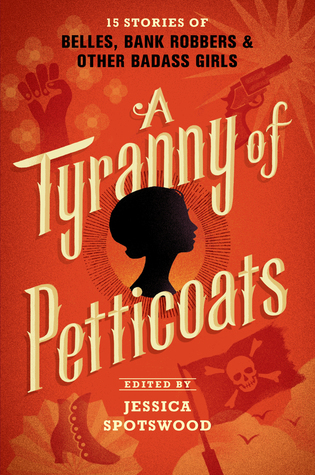 Title:
A Tyranny of Petticoats: 15 Stories of Belles, Bank Robbers & Other Badass Girls
Author:
Jessica Spotswood et al.
Publisher: Candlewick Press

Release Date:
March 8, 2016
Source:
ARC provided by Publisher in exchange for an honest review (
thanks Candlewick Press!!)
Summary from Goodreads:
From an impressive sisterhood of YA writers comes an edge-of-your-seat anthology of historical fiction and fantasy featuring a diverse array of daring heroines.
Criss-cross America — on dogsleds and ships, stagecoaches and trains — from pirate ships off the coast of the Carolinas to the peace, love, and protests of 1960s Chicago. Join fifteen of today's most talented writers of young adult literature on a thrill ride through history with American girls charting their own course. They are monsters and mediums, bodyguards and barkeeps, screenwriters and schoolteachers, heiresses and hobos. They're making their own way in often-hostile lands, using every weapon in their arsenals, facing down murderers and marriage proposals. And they all have a story to tell.
With stories by:
J. Anderson Coats | Andrea Cremer | Y. S. Lee | Katherine Longshore | Marie Lu | Kekla Magoon | Marissa Meyer | Saundra Mitchell | Beth Revis | Caroline Richmond | Lindsay Smith | Jessica Spotswood | Robin Talley | Leslye Walton | Elizabeth Wein
Review
Mother Carey's Table by J. Anderson Coats
- 4.5 stars
This story was about a girl pirate who tried to prove herself to her crew but learned the hard way that you can't trust anyone. It was a great opening story and I really loved how everything came full circle despite the somber ending.
The Journey by Marie Lu
- 4.5 stars
This story was inspired by the Inuit culture and the Alaskan wilderness and centered around a girl fleeing her broken village with her family's dog sled team. In just 20 some pages Lu made me feel love, loss, fear, strength, kindness, bravery, hope and so much more! Loved it!
Madaleine's Choice by Jessica Spotswood
- 3.5 stars
This story was about a young woman torn between her heart and her duty who seeks the help of a Voodoo Queen to make the right choice. This one was fun to read because I just returned from a trip to New Orleans where I learned much about its history. I only wish that the ending had more closure.
El Destinos by Leslye Walton -
4 stars
This story was inspired by The Fates and was magical realism at it's finest. I loved peeling back the layers of this story and felt quite the rush of emotions upon finishing this one.
High Stakes by Andrea Cremer
- 4.5 stars
This story was about Kilo, a long-thought-extinct creature among the paranormal circles who was also an assassin for hire. Someone tried to get the better of her but she was having none of that. And I absolutely LOVED this one. It was unique, interesting, action-packed, mysterious and so much more. Cremer nailed it.
The Red Raven Ball by Caroline Richmond
- 2.5 stars
This story was focused on a young girl who was asked to uncover a Confederate Spy among the guests at her grandmother's ball. In all fairness, stories involving high society life are usually a hit or miss for me. This one was a little bland in comparison to those that came before it but the ending did surprise me.
Pearls by Beth Revis.
- 3.5 stars
This story was about a girl who started a life of her own out West to escape marrying a monster. I wasn't sure where this one was going at first but I was easily sucked into the story regardless. And here I am left craving more of both Helen and Annie's stories. This one ended too quickly.
Gold in the Roots of the Grass by Marissa Meyer
- 4 stars
This story was about a girl who could communicate with ghosts and went out of her way to help one of them (and ended up helping so many others in the process). It was a ghost story, adventure, and romance (of sorts) all in one! I really liked it!
The Legendary Garrett Girls by Y. S Lee
- 5 stars
This one was about two sisters that ran a Tavern who were being extorted and refused to go down without a fight! It has to be my favorite of the bunch. It was suspenseful, exciting and a little bit humorous.
The Color of the Sky by Elizabeth Wein
- 3.5 stars
This story was about a young Black girl who worshiped Bessie Coleman but then was unfortunate enough to witness her death. It was about finding the courage to follow your dreams and not letting anyone else tell you what you can or cannot do. It was pretty consistent with the rest of Wein's work - important and impactful - and was a nice change of pace from the other stories.
Bonnie and Clyde by Saundra Mitchell
- 4.5 stars
This story was about a girl Robin Hood trying to escape from her latest run in with the law. That would have been enough on its own but it was extra fun that the boy chasing her was her beau and he had no idea. This story was short and sweet and I enjoyed it immensely.
Hard Times by Katherine Longshore
- 3.5 stars
This story was about two train-jumping nomadic kids who cross paths with a reporter in search of their story. It took place during the Great Depression and while it didn't blow me away, it was touching and had a great ending.
City of Angels by Lindsay Smith
- 2 stars
This story was about a girl discovering her interest in girls, falling in love, and using that love to fuel her work as a writer. But the characters were pretty cookie cutter and there wasn't all that much to be moved/excited by. I was left feeling a little underwhelmed, especially after the less-than-happy ending.
Pulse of the Panthers by Kelka Magoon
- 2 stars
This story was about a young girl farmer whose eyes are opened when her father hosts members of the Black Panther Party for a short period of time. I didn't get much out of this one though and the ending was inconclusive.
The Whole World is Watching by Robin Talley
- 3 stars
This story was about a girl finding the courage to be open about liking girls in a world where that was mostly unaccepted. I wasn't impressed by the writing - it was a little hard to follow with it taking place in the middle of protest. But I thought the romance was sweet and the ending especially so.
Overall Impression
This was a pretty solid compilation of stories! While I didn't love all of them, I really enjoyed the majority of them (although the book definitely started stronger than it ended). If you are a fan of strong female characters and historical fiction then you simply have to read this anthology!