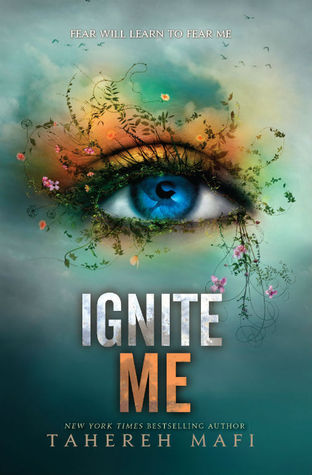 Title:
Ignite Me
Series:
Shatter Me #3
Author:
Tahereh Mafi
Publisher:
HarperCollins
Release Date:
February 4, 2014
Pages:
416
Source:
Audiobook, Library
Summary from Goodreads:
The heart-stopping conclusion to the New York Times bestselling Shatter Me series, which Ransom Riggs, bestselling author of Miss Peregrine's Home for Peculiar Children, called "a thrilling, high-stakes saga of self-discovery and forbidden love."

With Omega Point destroyed, Juliette doesn't know if the rebels, her friends, or even Adam are alive. But that won't keep her from trying to take down The Reestablishment once and for all. Now she must rely on Warner, the handsome commander of Sector 45. The one person she never thought she could trust. The same person who saved her life. He promises to help Juliette master her powers and save their dying world . . . but that's not all he wants with her.

The Shatter Me series is perfect for fans who crave action-packed young adult novels with tantalizing romance like Divergent by Veronica Roth, The Hunger Games by Suzanne Collins, and Legend by Marie Lu. Tahereh Mafi has created a captivating and original story that combines the best of dystopian and paranormal, and was praised by Publishers Weekly as "a gripping read from an author who's not afraid to take risks." Now this final book brings the series to a shocking and satisfying end.
Review
Do not read this if you haven't read Ignite Me.
I did not censor myself.
I just need to say my piece.
You cannot reinvent characters in the third and final book of a series.
Juliette went from being this weak, self-pitying girl who spent all of her time with her feelings to this bossy, bigheaded, hardass
all in the blink of an eye
.
"I've had enough.
I came so close to killing Anderson once, and I'll make sure I have that chance again. But this time, I'll follow through.
I wasn't ready last time. I wouldn't have known what to do even if I'd killed him then. I would've handed control over to Castle and I would've watched quietly as someone else tried to fix our world again. But I see now that Castle was wrong for this job. He's too tender. Too anxious to please everyone.
I, on the other hand, am left with no concerns at all.
I will be unapologetic. I will live with no regrets. I will reach into the earth and rip out the injustice and I will crush it in my bare hands. I want Anderson to fear me and I want him to beg for mercy and I want to say no, not for you. Never for you.
And I don't care if that's not nice enough."
Who the hell are you and what have you done with Juliette?
The only constant between pre-Ignite Me Juliette and Ignite Me Juliette is that she is still selfish. She had no regard for anyone but herself (and Warner). In fact, she threatened to harm Kenji on multiple occasions for disagreeing with her. Bitch, no.
I think it is normal for you friends to question you a little bit if you become all chummy with the supposed enemy and accept everything he says without question.
And then there is Adam. Pre-Ignite Me Adam was kind, supportive, and level-headed. Ignite Me Adam was a stubborn, jealous hothead. And I don't care what you say, pre-Ignite Me Adam would NEVER have called Juliette stupid once, let alone twice. Never. I don't care the circumstances or how not-Juliette Juliette is being.
Gah. This is just so not ok with me!! Even Kenji didn't feel quite himself at times. It was like I didn't recognize any of the characters. And I can't even say it was for the sake of the plot because HELLO! THERE WAS NO PLOT!
90% of this book was talking and that's probably a generous estimate.
(Not that it would be ok to do for the sake of the plot either).
ZZZZZZZZ.
I'm done. I'M DONE WITH THIS SERIES.
And just for the record, I was Team Warner and I still didn't like this book.