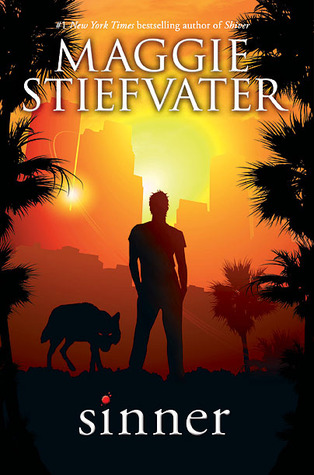 Title:
Sinner
Author:
Maggie Stiefvater
Series:
The Wolves of Mercy Falls #3.5
Publisher:
Scholastic Press
Release Date:
July 1th 2014
Pages:
Hardcover, 368 pages
Source:
ARC from Publisher
Summary from Goodreads:
A standalone companion book to the internationally bestselling Shiver Trilogy.

Sinner follows Cole St. Clair, a pivotal character from the #1 New York Times bestselling Shiver Trilogy. Everybody thinks they know Cole's story. Stardom. Addiction. Downfall. Disappearance. But only a few people know Cole's darkest secret -- his ability to shift into a wolf. One of these people is Isabel. At one point, they may have even loved each other. But that feels like a lifetime ago. Now Cole is back. Back in the spotlight. Back in the danger zone. Back in Isabel's life. Can this sinner be saved?
Review
When a series ends it is typically a mix of happy and sad feelings; you are hopefully happy with the way things ended but sad to say goodbye to the characters. There is now another set of feelings, when you think the series is over and you hear the amazing news of a spin off featuring characters you would have loved to know more about. It is one more chance (besides rereads) to rejoin the story's world and enjoy a fantastic surprise. Sinner was all that and more!
"I'm a performer, a singer, a werewolf, a sinner."
Cole St. Clair is the epitome of a rock star. He lived the famous, drug and sex filled, crazy party lifestyle until it nearly killed him. He comes back to LA for Isabel and another try in a more subdued rock star role. Cole St. Clair was not someone Isabel was expecting to see walk into her store but one of the only ones she wanted to see.
" Wait---" Same said. " Have you seen Isabel yet?"
My fingers still felt the shape of her. "Da. We embraced. Angels sang, Sam. Those fat ones. Cherubs. Cherubim. I must go."
Maggie Stiefvater's writing will have you laughing at Cole's high speed, no filter raw comments and Isabel's sassy and feisty nature, all while wanting the tension between the characters to break because you just could not handle another page of it. The narration switches between both Isabel and Cole giving the reader insight into both side of the story and into both character's unguarded feelings.
" And here was what I was most afraid of: that Cole St. Clair would fall in love with me, and I'd fall in love with him, both of us human weapons, and we'd both end up with broken hearts."
The plot revolves around the dangerous and disastrous relationship between Cole and Isabel, while the action is not the typical fight, life threatening situation, the tension between the characters is more than enough to keep story moving. Every character in the story has a role, there are no extraneous or unnecessary details; everything played a part in the crazy roller coaster of Cole and Isabel's intense love story. My only reservation was that with all the tension I wish the end was a bit longer but overall it was a perfect fit for their personalities and characters.
Bottom Line
Sinner, is more than a reader could ask for in a surprise spin off; the sexual tension radiates off the pages while the dual point of view gives insight into the personal journeys each character is going through in the story. I was pleasantly surprised, the final book in The Wolves of Mercy Falls was enjoyable but not an all time favorite yet Sinner just was the icing on the cake.