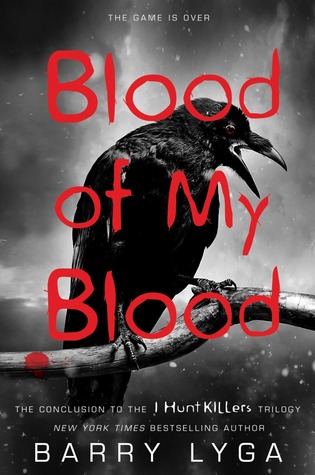 Title:
Blood of My Blood
Author:
Barry Lyga
Series:
Jasper Dent #3
Publisher:
Little Brown Books for Young Readers
Release Date:
September 9, 2014
Source:
Netgalley
(thank you Little Brown!)
Summary from Goodreads:
Jazz Dent has been shot and left to die in New York City. His girlfriend Connie is in the clutches of Jazz's serial killer father, Billy. And his best friend Howie is bleeding to death on the floor of Jazz's own home in tiny Lobo's Nod. Somehow, these three must rise above the horrors their lives have become and find a way to come together in pursuit of Billy. But then Jazz crosses a line he's never crossed before, and soon the entire country is wondering: "Like father, like son?" Who is the true monster?
The chase is on, and beyond Billy there lurks something much, much worse. Prepare to meet...the Crow King.
Review
Wow. Wow. Wow. Wow. Wow. I could not turn the pages of this book fast enough. Every. Single. Moment. Of. This. Book. Was. Amazing.

Blood of My Blood picks up right where Game left off and doesn't slow down for a second. I don't want to reveal too much of the plot lest I ruin any surprises, but I will say that Blood of My Blood is everything we've been waiting for and more. Billy and Jazz finally face off. Jazz finds out what happened to his mother. Billy has a one-on-one with Connie. We meet The Crow King. We find out who Ugly J is. Truths are revealed. Lies are uncovered. Characters are tested. Questions are answered. Everything from the first two books culminates in this EPIC conclusion. It was magnificent.

A big theme of this series has been the idea of nature vs nurture. Throughout the series, Jazz has struggled to resist the teachings of his father, to choose to do good, be good. And he's succeeded up until this point. But Jazz finally loses control in the wake of Billy's latest actions. He becomes consumed by rage, desperation and grief and can only focus on putting an end to Billy, no matter the consequences. Watching Jazz self-destruct and go after Billy was like watching a head-on collision. I didn't want to look, knowing this wasn't going to end well, but I couldn't turn away either.

I can't write this review without mentioning the very characters that helped bring Jazz back from the edge. Connie and Howie are as rock solid as ever in this conclusion and I completely adore these two. Despite what they have each been through, they stay true to Jazz and help him in whatever way they can. Howie even maintains his sense of humor and can be counted on to lighten the mood every once in a while. And G. Turner William steps up in a big way too. Jazz's real parents might have failed him but Jazz has still got a family in Lobo's Nod and the things they did for him warmed my heart.

Not only is this series thrilling, thought-provoking and unique but it also has a certain believability to it. The serial killer and police investigation pieces certainly felt well-researched but I was more impressed by the characters themselves. All of their thought-processes, deductions, arguments, doubts, questions, etc felt very very real and were consistent throughout the series. I applaud Barry Lyga for how well he crafted both internal and external dialogue in each book. Really, the writing overall is just flawless.

I could go on and on but I will end here. This series is brilliant. This ending is brilliant. I highly recommend it to all readers but for Mystey/Thriller fans, it's a must read. It's definitely a favorite of mine.