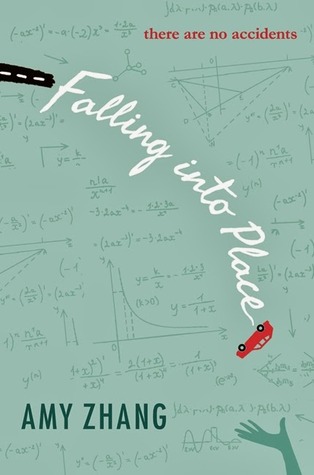 Title:
Falling Into Place
Author:
Amy Zhang
Publisher:
Greenwillow Books
Release Date:
September 9, 2014
Source:
BEA
Summary from Goodreads:
On the day Liz Emerson tries to die, they had reviewed Newton's laws of motion in physics class. Then, after school, she put them into practice by running her Mercedes off the road.
Why? Why did Liz Emerson decide that the world would be better off without her? Why did she give up? Vividly told by an unexpected and surprising narrator, this heartbreaking and nonlinear novel pieces together the short and devastating life of Meridian High's most popular junior girl. Mass, acceleration, momentum, force—Liz didn't understand it in physics, and even as her Mercedes hurtles toward the tree, she doesn't understand it now. How do we impact one another? How do our actions reverberate? What does it mean to be a friend? To love someone? To be a daughter? Or a mother? Is life truly more than cause and effect? Amy Zhang's haunting and universal story will appeal to fans of Lauren Oliver, Gayle Forman, and Jay Asher.
Review
Falling Into Place has left me feeling a little conflicted. Part of me appreciated the thought-provoking, poignant story and the nonlinear style in which it was told but the other part of me found it really difficult to sympathize with someone as horrible as Liz.
Liz Emerson is completely and utterly broken inside. She blames herself for a tragedy that happened when she was just a child and has been self-destructing ever since. She is now the mean girl at school, ruining lives for sport, as a distraction, a defense-mechanism, or maybe even a cry for help. But no one knows that she is suffering. And now all of the horrible things that she's done have caught up to her and have begun to weigh on her conscience but she doesn't know how to fix or stop what she's started. She feels that it is too late for her redemption and thinks that she is doing everyone a favor by ridding herself from the world. It was horribly sad story and my heart did go out to Liz.
But at the same time the things that Liz did on a daily basis were terrible and cruel and I kind of hated her. She was a horrible person. She treated her closest friends no better, possibly even worse, and it disgusted me. How do you sympathize with someone like that? I don't think she deserved their loyalty at all. And I think she
could
have changed, or at the very least tried a little harder. She barely tried at all and it infuriated me. I understand that Liz was in a bad place, but I don't believe that is an excuse to treat other people the way that she did. This was the problem I had with really falling into the story (no pun intended).
So as you can see, I'm torn. I am settling on 3 stars because despite my problems with Liz, I do think it was a powerful story and told well. And now I leave you with a few quotes...
"She looked around and saw all of the broken things in her wake, and then she looking inside herself and saw the spidering cracks from the weight of all the things she had done. She hated what she was and didn't know how to change, and half an hour before she drove her car off the road, she saw that despite all of that, she didn't have enough force to stop the world from turning. But she had enough to stop her own." - pg 199
"Some people died because the world did not deserve them. Liz Emerson, on the other hand, did not deserve the world." - pg 238
"In that moment, Liz Emerson felt that she was forever looking up at people who were much, much better than she could ever be, and the only thing she was really good at was pulling them down to her level." - pg 263