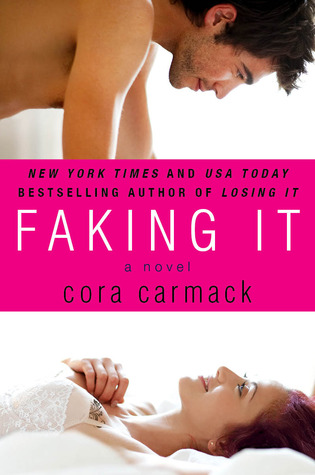 Title:
Faking It
Series:
Losing It #2
Author:
Cora Carmack
Publisher:
William Morrow & Company
Release Date:
June 4th 2013
Pages:
Paperback, 304 pages
Source:
Library
Summary from Goodreads:
Mackenzie "Max" Miller has a problem. Her parents have arrived in town for a surprise visit, and if they see her dyed hair, tattoos, and piercings, they just might disown her. Even worse, they're expecting to meet a nice, wholesome boyfriend, not a guy named Mace who has a neck tattoo and plays in a band. All her lies are about to come crashing down around her, but then she meets Cade.

Cade moved to Philadelphia to act and to leave his problems behind in Texas. So far though, he's kept the problems and had very little opportunity to take the stage. When Max approaches him in a coffee shop with a crazy request to pretend to be her boyfriend, he agrees to play the part. But when Cade plays the role a little too well, they're forced to keep the ruse going. And the more they fake the relationship, the more real it begins to feel.
Review
I absolutely devoured Losing It, so I was so excited to start Faking It and hear more about Cade since he got the short end of the stick in the first book. I will first start off by saying I love how the books are a series yet since each book is about a different character, they can be read as a stand alone. Reading them in order gives the reader a bit more background and back story but the overall plot is quite stand alone with no cliff hangers. I enjoyed the feeling of completeness after finishing this one!
Cade and Max have a whole different kind of relationship, one that started as pretend and turned into something real. The biggest reservation I had, which is not really to the writing or story telling of the book but more a personal preference thing was that I was not a huge fan of the fact that Max was in a relationship for a bit while in the fake but real relationship with Cade. Besides that aspect, I loved their chemistry and banter. Both characters carried a past with them and needed help overcoming it; they were well developed and thought out characters, they never fell flat.
The whole situation was a comical one, while I thought the story had a bit more serious tone to it compared to Losing It, it was still quite enjoyable! I loved Cade, he was a sweet, loving, and overall just good guy. Max had a lot going on, she had a lot of hurt and sadness in her past yet a strong personality and facade. Together they made a great couple and a fun book.
Overall, I really enjoyed this one, it did not quite have the light-hearted nature I fell in love with in book one yet it had a different rough but strong story line. I recommend it if you enjoyed Losing It just keep in mind there is hardly any awkward, clumsy Bliss (who I thought was fantastic).