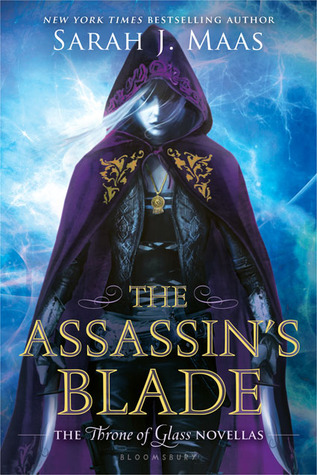 Title:
The Assassin's Blade
Author:
Sarah J. Maas
Series:
Throne of Glass 0.1 - 0.5
Publisher:
Bloomsbury Childrens
Release Date:
March 4, 2014
Summary from Goodreads:
Contains all five novellas.

Celaena Sardothien is Adarlan's most feared assassin. As part of the Assassin's Guild, her allegiance is to her master, Arobynn Hamel, yet Celaena listens to no one and trusts only her fellow killer-for-hire, Sam. In these action-packed novellas - together in one edition for the first time - Celaena embarks on five daring missions. They take her from remote islands to hostile deserts, where she fights to liberate slaves and seeks to avenge the tyrannous. But she is acting against Arobynn's orders and could suffer an unimaginable punishment for such treachery. Will Celaena ever be truly free? Explore the dark underworld of this kick-ass heroine to find out.
Review
With each new book in the Throne of Glass series, Sarah J. Maas has revealed more and more of Celaena's past but readers are given only pieces of a much larger story. We know enough to understand that Celaena's time with Arobynn had a significant impact on her, and that there was a man who stole her heart before Chaol, but the truth is much harder to swallow.
These are the first novellas I have ever read. One thing I wasn't expecting was how closely they tied together. You can't read just one and stop, you need to read all 5, in order (not that I have any problem with that though). Here are my thoughts on the lot:
The Assassin and the Pirate Lord - just the type of adventure I was expecting. It was so good to be back with Celaena and her bad self as she parried with Captain Rolfe, Lord of the Pirates. And to meet Sam finally!!! But the events in this novella are what set everything in motion and knowing that now makes it all bittersweet.
The Assassin and the Healer - not as critical to the overall story nor as action packed but just as moving. After the fallout in the first novella, Celaena is looking for a fight and accidentally befriends a tavern maid along the way. We see the cold, deadly assassin again but we also glimpse the softer, more vulnerable side of Celaena. I hope to see Yrene again someday.
The Assassin and the Desert - this was my favorite novella. I just had so much fun with it. Give me a school of assassin's and Celaena proving herself any day. It was new and exciting and unpredictable and Celaena shines in the end. I couldn't have asked for more.
The Assassin and the Underworld - Celaena returns to Rifthold and the overload of feels begins. She's in a precarious situation with Arobynn and as bad as things are, they are only going to get worse. The mission she is on is suicide and things are complicated with Sam. By the end of this novella, I had 104 ways I would like to see Arobynn die, one for each page. But Sam!!!
The Assassin and the Empire - the death of me. The pieces of my heart, along with my tears are left on the pages of this story.
I am sure it is no surprise that I loved these novellas. I definitely understand Celaena more now having read them. And I could live in her story forever and ever even if is full of pain and betrayal. I know that Celaena's day will come and that gets me through. I only wish I had more time with Sam.
Lastly, it took me entirely too long to read these novellas and I have no good excuse to give. But perhaps I can make up for my negligence by urging you all to read these novellas and this series. Don't make the same mistake I did!