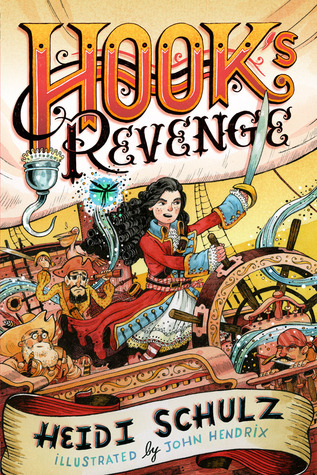 Title:
Hook's Revenge
Author:
Heidi Schulz
Series:
Hook's Revenge #1
Publisher:
Disney-Hyperion
Release Date:
September 16, 2014
Summary from Goodreads:
Captain Hook's feisty daughter hits the high seas to avenge her father's death at the jaws of the Neverland crocodile in Heidi Schulz's spirited middle-grade debut.
Twelve-year-old Jocelyn dreams of becoming every bit as daring as her infamous father, Captain James Hook. Her grandfather, on the other hand, intends to see her starched and pressed into a fine society lady. When she's sent to Miss Eliza Crumb-Biddlecomb's Finishing School for Young Ladies, Jocelyn's hopes of following in her father's fearsome footsteps are lost in a heap of dance lessons, white gloves, and way too much pink.
So when Jocelyn receives a letter from her father challenging her to avenge his untimely demise at the jaws of the Neverland crocodile, she doesn't hesitate-here at last is the adventure she has been waiting for. But Jocelyn finds that being a pirate is a bit more difficult than she'd bargained for. As if attempting to defeat the Neverland's most fearsome beast isn't enough to deal with, she's tasked with captaining a crew of woefully untrained pirates, outwitting cannibals wild for English cuisine, and rescuing her best friend from a certain pack of lost children, not to mention that pesky Peter Pan who keeps barging in uninvited.
The crocodile's clock is always ticking in Heidi Schulz's debut novel, a story told by an irascible narrator who is both dazzlingly witty and sharp as a sword. Will Jocelyn find the courage to beat the incessant monster before time runs out?
Review
My first thought upon starting Hook's Revenge, when the very first paragraph made me laugh, was "This is going to be a good time" and my first thought upon finishing this book was "I should read more Middle Grade" and every thought in between was equally as positive and indicative of how much I enjoyed this book.

Jocelyn is the daughter of the infamous Captain Hook and the apple didn't fall far from the tree. She's spirited, unrefined, and up-to-no-good and I say all of that with endearment. She craves adventure and after a brief (yet amusing) stint in finishing school she gets just that when she sets sail for Neverland to avenge her father's death. I loved being back in the Neverland setting and having yet another perspective on all of our favorite characters. This book was full of adventure, wonderful characters, and lots of pirate references. Have I won you over yet?

As if that isn't enough, the narration is one of the best I've ever had the pleasure of reading. The narrator is not Jocelyn, but some anonymous storyteller that reminded me of David Thorne (if you are familiar with the reference). It was frank, ungracious, and unapologetic and again, I say all of that with endearment. The beginning of every chapter had these little references or tangents that were hilarious and unexpected. Basically, the delivery was delightfully entertaining.

To say that I enjoyed this book immensely would be an understatement. It was everything I didn't know I needed and I wish I had more of it. Read it!