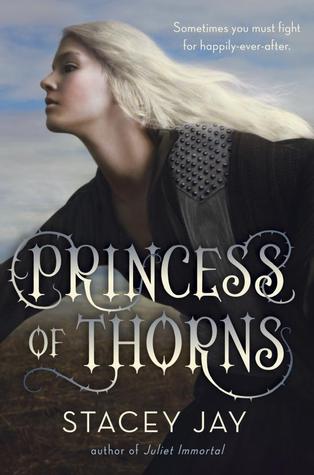 Title:
Princess of Thorns
Author:
Stacey Jay
Publisher:
Delacorte Press
Release Date:
December 9, 2014
Source:
Netgalley (
thank you Random House!
)
Summary from Goodreads:
Game of Thrones meets the Grimm's fairy tales in this twisted, fast-paced romantic fantasy-adventure about Sleeping Beauty's daughter, a warrior princess who must fight to reclaim her throne.

Though she looks like a mere mortal, Princess Aurora is a fairy blessed with enhanced strength, bravery, and mercy yet cursed to destroy the free will of any male who kisses her. Disguised as a boy, she enlists the help of the handsome but also cursed Prince Niklaas to fight legions of evil and free her brother from the ogre queen who stole Aurora's throne ten years ago.

Will Aurora triumph over evil and reach her brother before it's too late? Can Aurora and Niklaas break the curses that will otherwise forever keep them from finding their one true love?
Review
The first thing you should know is that I am not one to read past my bedtime no matter how good a book is. I have learned enough times what misery awaits me the next day if I don't get enough sleep and very little can encourage me to knowingly take that on. So it means something when I say that I stayed up late for this book. I had to keep reading to find out what happened with Aurora and Niklaas. I just had to, zombie-level exhaustion be damned.

Aurora and Niklaas might be one of my favorite relationship arcs I've read this year. Niklaas thinks Aurora is her brother Jor when they first meet and Aurora keeps up the pretense to get Niklaas to help her, promising him that she will introduce him to Aurora, whom he is desperate to marry to break his curse. However, Aurora has a curse of her own and knows she will never marry, let alone marry this insufferable man. See how beautifully complicated things are from the start? I absolutely loved the boy-thinks-girl-is-a-boy twist and all that went along with it. It was wonderful to see their friendship grow as they traveled and fought together. But it was when Aurora's true identity was revealed and the entire dynamic between them shifts that things started to get REALLY interesting (aka incredibly tense and infuriating). They both had to redefine their feelings and it wasn't easy for either of them. These are two of the most stubborn and foolish characters ever but I love them dearly. I was so invested in their happy ending that I would not stop reading even if it killed me.

And the rest of the story was just as delightful and captivating as the romance. There are these creepy soul-eating Ogres that have taken over the kingdom and a prophecy on the brink of coming true that would destroy the world. These monsters have Aurora's brother and she will stop at nothing to get him back. Then the matter of the curses looming over both of them and no foreseeable way out of either. And there's magic and darkness and fairytale connections and twists and turns. It was exciting and suspenseful. I really couldn't get enough.

The confusion I experienced in the first 5 or so pages is the only negative thing I can say about this book. The rest was wonderful.

If you love Fantasy, loose retellings, great romances, standalones, or just books in general, I highly recommend this one!