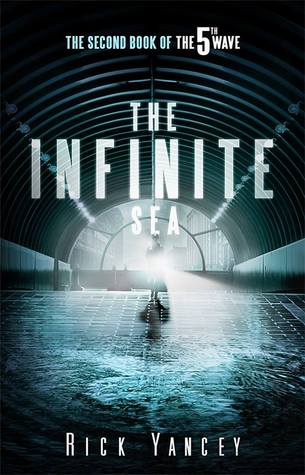 Title:
The Infinite Sea
Series:
The 5th Wave #2
Author:
Rick Yancey
Publisher:
Putnam Juvenile
Release Date:
September 16th 2014
Pages:
Hardcover, 300 pages
Source:
Library
Summary from Goodreads:
How do you rid the Earth of seven billion humans? Rid the humans of their humanity.

Surviving the first four waves was nearly impossible. Now Cassie Sullivan finds herself in a new world, a world in which the fundamental trust that binds us together is gone. As the 5th Wave rolls across the landscape, Cassie, Ben, and Ringer are forced to confront the Others' ultimate goal: the extermination of the human race.

Cassie and her friends haven't seen the depths to which the Others will sink, nor have the Others seen the heights to which humanity will rise, in the ultimate battle between life and death, hope and despair, love and hate.
Review
Rick Yancey you took my emotions on a roller coaster ride that lasted the entire book. I was yelling 'Nooooo!' in some chapters and rooting for the characters in the next, To be honest, I did not like this roller coasters as much as I thought I was going to. I was given hope at times just to have it snatched away from me, while I think it fit the theme and overall mood for the book it was not something that I really enjoyed.
Even though I typically love alternating point of views, I felt that during some chapters it was hard to remember who was the narrator. There were also points in the book where I really wanted to know what was going on with some of the other characters but had to wait quite a few chapters until the point of view switched back. The actual plot line continues to be scarily awesome! Yancey continues to effectively convey a desperate, dangerous environment that the characters have no choice but to face head on.
Overall, I was a bit disappointed in The Infinite Sea, The 5th Wave was a crazy, high stress, alien invasion survival story that had me flipping through every page with such anticipation. The Infinite Sea lacked some of the 'wow' factor; the story focused on heavy character development while the plot pace took a back seat. I am still excited for the next book, while this one was not my favorite, I am still invested it the plot and the characters.