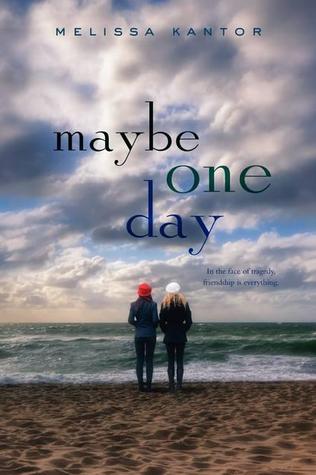 Title:
Maybe One Day
Author:
Melissa Kantor
Publisher:
HarperTeen
Release Date:
February 18, 2014
Summary from Goodreads:
Zoe and her best friend, Olivia, have always had big plans for the future, none of which included Olivia getting sick. Still, Zoe is determined to put on a brave face and be positive for her friend.

Even when she isn't sure what to say.

Even when Olivia misses months of school.

Even when Zoe starts falling for Calvin, Olivia's crush.

The one thing that keeps Zoe moving forward is knowing that Olivia will beat this, and everything will go back to the way it was before. It has to. Because the alternative is too terrifying for her to even imagine.

In this incandescent page-turner, which follows in the tradition of The Fault in Our Stars, Melissa Kantor artfully explores the idea that the worst thing to happen to you might not be something that is actually happening to you. Raw, irreverent, and honest, Zoe's unforgettable voice and story will stay with readers long after the last page is turned.
Review
There are quite a few people whom I love that I would go to great lengths for, but I can count the number of people I love, that if I lost would paralyze me with grief, on one hand, and my best friend is one of them. So to say that this book hit close to home would be an understatement. I kept inserting myself and my best friend into Zoe and Olivia's situation and I just couldn't even deal. I choked up many times throughout the story and full out sobbed in the end. I am emotionally exhausted after this one.

It just felt too damn real. And I don't mean the cancer aspect per say, I have no experience with that. I mean Zoe and Olivia's relationship throughout the entire ordeal. It is so hard watching someone you love be sick or in pain or grieving and wanting to help but not knowing what is the right thing to say or do. How Zoe responded to the situation and interacted with Olivia felt very natural to me given their friendship. She wanted to be exactly what her friend needed – whether it be hope, a distraction, some sense of normalcy to cling to - she would try her best to give her that. Even if she had to hold in her tears for when she was alone. I could so relate. And she felt so very human to me.

Even in the end, the emotions that Zoe was feeling, or lack thereof to be precise, were spot on. I've experienced loss and understand that dead feeling, which is only magnified the more you love someone. That not being able to comprehend that someone that used to be in your life is gone. Having that instinct to see them, talk to them and then realizing you can't. Everything reminding you of them. Gah. I really did not expect to have this visceral of a reaction when reading this book.

I won't say all depictions are perfect; some are even a little insensitive - like Zoe's mocking tone used to describe the girls at school that held fundraisers and such in support of Olivia - but I didn't expect Zoe to be at her best at a time like this. And I still found it to be pretty impactful.

I would definitely recommend it for those of you who are fans of emotional contemporaries. It was a rough experience, but only because it was so relatable.