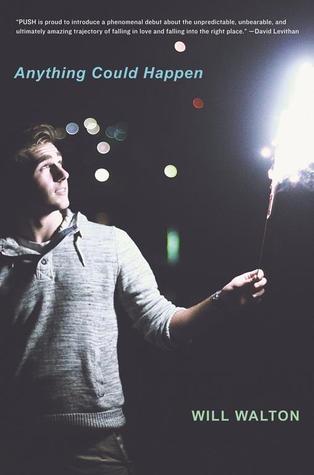 Title:
Anything Could Happen
Author:
Will Walton
Publisher:
Push
Release Date:
May 26th 2015
Source:
ARC received from publisher.
Summary from Goodreads:
When you're in love with the wrong person for the right reasons, anything could happen.

Tretch lives in a very small town where everybody's in everybody else's business. Which makes it hard for him to be in love with his straight best friend. For his part, Matt is completely oblivious to the way Tretch feels – and Tretch can't tell whether that makes it better or worse.

The problem with living a lie is that the lie can slowly become your life. For Tretch, the problem isn't just with Matt. His family has no idea who he really is and what he's really thinking. The girl at the local bookstore has no clue how off-base her crush on him is. And the guy at school who's a thorn in Tretch's side doesn't realize how close to the truth he's hitting.

Tretch has spent a lot of time dancing alone in his room, but now he's got to step outside his comfort zone and into the wider world. Because like love, a true self can rarely be contained.

ANYTHING COULD HAPPEN is a poignant, hard-hitting exploration of love and friendship, a provocative debut that shows that sometimes we have to let things fall apart before we can make them whole again.
Review
Anything Could Happen is realistic honest read that forced me out of my comfort zone. Contemporaries in general are not typically my book of choice yet this one captured my attention and had me flipping through the pages. Anything Could Happen is a strong character driven book that tells Tretch's story. Between the pop culture references and the character's dialogue both inner dialogue and the conversations with his friends, it was easy to immerse myself into the story. The settings and emotions had enough familiarity of high school yet with enough vagueness that it was easy to imagine the story unfolding as I read.
The secondary characters are on point! Each played a role, not only a part in Tretch's development but the other characters themselves grew throughout the book as well. I really enjoyed the family dynamics in both Tretch and Matt's lives. I do not typically run across mentions and relationships with grandparents in YA, it was such a nice addition to this book. I am close with my grandparents so I found it great when Tretch visits and loves on his grandparents. Not only are there grandparents in the book, both Matt and Tretch's families play significant roles.
My main reservation when it came to the plot was that I wanted more from the ending. It did end well but I felt that with all the great character development prior to the ending it seemed a bit off balance.
I grew to care for each of the characters, I wanted Tretch to get his happy ending. Granted in some ways he did, his happy ending was achieved through opening up, feeling free and unashamed of who he truly is. Anything Could Happen was a well written, self reflective novel that is definitely worth the read.