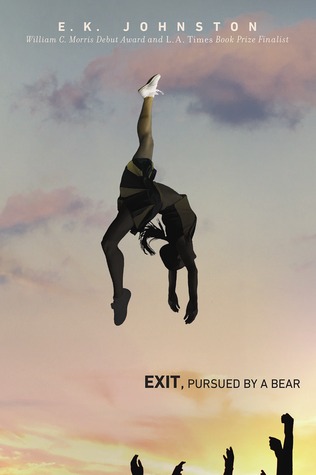 Title:
Exit, Pursued by a Bear
Author:
E.K. Johnston
Publisher:
Dutton Books for Young Readers
Release Date:
March 15th 2016
Source:
Library
Summary from Goodreads:
"I love you," Polly says suddenly when I'm almost to the door.

"I know," I say.

Hermione Winters has been a flyer. She's been captain of her cheerleading team. The envied girlfriend and the undisputed queen of her school. Now it's her last year and those days and those labels are fading fast. In a few months she'll be a different person. She thinks she's ready for whatever comes next.

But then someone puts something in her drink at a party, and in an instant she finds herself wearing new labels, ones she never imagined:

Victim. Survivor. That raped girl.

Even though this was never the future she imagined, one essential thing remains unchanged: Hermione can still call herself Polly Olivier's best friend, and that may be the truest label of all.

Heartbreaking and empowering, Exit, Pursued by a Bear is the story of transcendent friendship in the face of trauma.

"I love you," I say, because I really, really do.

"I know," says Polly.
Review
If I were to describe this book in one word it would be friendship. The friendship between the main character Hermione and her best friend Polly is the friendship most people strive for. It is a friendship that never fails and is there through every good thing and every terrible thing. The relationship between these two girls is one to be cherished and it makes for a truly heart-warming read.

Hermione needs her friends and family after her traumatic life event. The author does an incredible job of not shying away from the hard words and tough situations that follow Hermione's rape. The emotions felt honest and while at times, passages were hard to read they felt real. I thought I had parts of the story predicated but was proved wrong.

This book will not be for everyone has it deals with some tough issues but it is well worth the read. Exit, Pursued by a Bear is a book about a girl that is drugged and raped but survives with the help of family, friends, and cheer leading. The story will pull you in and hold on to your heart strings until the very last page.