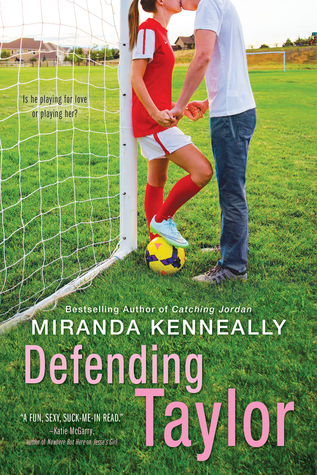 Title:
Defending Taylor
Series:
Hundred Oaks #7
Author:
Miranda Kenneally
Publisher:
Sourcebooks Fire
Release Date:
July 5th 2016
Source:
E-ARC from the Publisher. Thank you Sourcebooks Fire!
Summary from Goodreads:
Captain of the soccer team, president of the Debate Club, contender for valedictorian: Taylor's always pushed herself to be perfect. After all, that's what is expected of a senator's daughter. But one impulsive decision—one lie to cover for her boyfriend—and Taylor's kicked out of private school. Everything she's worked so hard for is gone, and now she's starting over at Hundred Oaks High.

Soccer has always been Taylor's escape from the pressures of school and family, but it's hard to fit in and play on a team that used to be her rival. The only person who seems to understand all that she's going through is her older brother's best friend, Ezra. Taylor's had a crush on him for as long as she can remember. But it's hard to trust after having been betrayed. Will Taylor repeat her past mistakes or can she score a fresh start?
Review
Thanks to my OTSP Secret Sister, it is official, I am a Miranda Kenneally fan for sure. Defending Taylor was yet another great Hundred Oaks book! Taylor made one mistake that drastically changed her senior year. Having to transfer your senior year of high school cannot be an easy thing and Kenneally does not portray it as one. The difficulties and challenges in trying to make friends with classmates that have known each other for years can be challenging and frustrating at times. The drama surrounding her expulsion and then her integration into public school while a bit intense fit the characters and the story line. The side characters are always a welcome addition, the girl friends that Taylor makes help her embrace the change in her life.

The sports and romance were great! While I only played soccer when I was super young, it is definitely a sport I get and really enjoyed reading about. The dynamics between the players and the sometimes ball hogs was easy to relate to. The love interest and romance were on point; I loved the older brother long term crush interest. The romance and chemistry between the characters was well developed and progressed naturally throughout.

I love that Taylor embraces her desires both in her love interest and in her education. She works hard and studies her butt off to get where she wants to go. Even though she makes a mistake she does not let it rule her and she overcomes it with the help of soccer, family, and friends. Defending Taylor has soccer drama, an older brother's hot best friend, and a super smart motivated main character; I definitely recommend it!