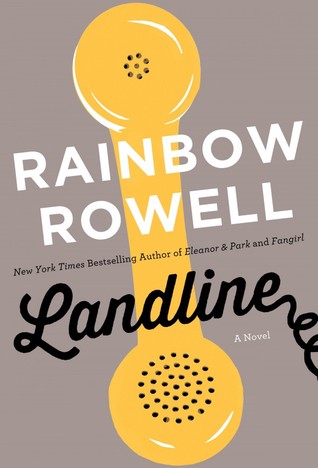 Title:
Landline
Author:
Rainbow Rowell
Publisher:
St. Martin's Press
Release Date:
July 8th 2014
Pages:
Hardcover, 320 pages
Source:
BEA2014
Summary from Goodreads:
Georgie McCool knows her marriage is in trouble. That it's been in trouble for a long time. She still loves her husband, Neal, and Neal still loves her, deeply — but that almost seems besides the point now.

Maybe that was always besides the point.

Two days before they're supposed to visit Neal's family in Omaha for Christmas, Georgie tells Neal that she can't go. She's a TV writer, and something's come up on her show; she has to stay in Los Angeles. She knows that Neal will be upset with her — Neal is always a little upset with Georgie — but she doesn't expect to him to pack up the kids and go home without her.

When her husband and the kids leave for the airport, Georgie wonders if she's finally done it. If she's ruined everything.

That night, Georgie discovers a way to communicate with Neal in the past. It's not time travel, not exactly, but she feels like she's been given an opportunity to fix her marriage before it starts . . .

Is that what she's supposed to do?

Or would Georgie and Neal be better off if their marriage never happened?
Review
Besides loving the simple cover for Landline, I was a little hesitant after I read the summary. A phone that lets you talk into the past could of gone terribly wrong, yet it didn't. Rainbow Rowell captured a beautiful story between a working woman and her husband that just lost a little something in their relationship.
One of the strongest aspects and one of my favorite aspects of the book are the characters. Georgie and Neil are real people with real struggles; they are far from flat characters, the have layers upon layers of personalities and dimensions. Rowell peels back their layers through Georgie's flashbacks and phone conversations. Below is an example of a flashback that just made me smile, the characters are funny in the most natural, unforced way.
"What are you doing in a fraternity?" She'd asked. "Comedy writers don't join fraternities."
"Don't pigeonhole me, Georgie. I'm infinite."
"Yea, but why?"
"The usual reasons. Backup friends, navy blue jackets-- plus someday I might run for office."
The plot was not full of crazy drama or action, it was just tension that kept me flipping through the pages, the strong desire for a happy outcome. I am happy to say that Landline had a fulfilling and satisfying ending that had left me with a feeling of completeness and a couple of tears.
She picked up the receiver and held it to her head. No dial tone. Well, of course, no dial tone -- it's not plugged in. It's not plugged in to the space/time portal in the wall behind my bed. (Cue maniacal laughter.)
Oh, a bonus is that Georgie is a writer for a comedy tv show. Her fast wit, sometimes dry humor, and ridiculous inner dialogues just made the book even more enjoyable.
Bottom Line
Rainbow Rowell is easily one of my favorite authors at this point. Landline did not disappoint! It was a beautifully real story about a tough time in a couple's marriage. A simple land line phone paired with some magic time traveling powers made for a unique and page turning read.