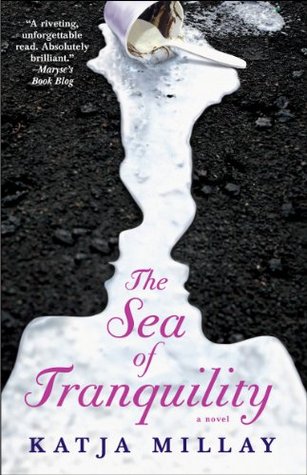 Title:
The Sea of Tranquility
Author:
Katja Millay
Publisher:
Atria Books
Release Date:
November 13th 2012
Pages:
426
Source:
Audible, Purchased
Summary from Goodreads:
I live in a world without magic or miracles. A place where there are no clairvoyants or shapeshifters, no angels or superhuman boys to save you. A place where people die and music disintegrates and things suck. I am pressed so hard against the earth by the weight of reality that some days I wonder how I am still able to lift my feet to walk.

Former piano prodigy Nastya Kashnikov wants two things: to get through high school without anyone learning about her past and to make the boy who took everything from her—her identity, her spirit, her will to live—pay.

Josh Bennett's story is no secret: every person he loves has been taken from his life until, at seventeen years old, there is no one left. Now all he wants is be left alone and people allow it because when your name is synonymous with death, everyone tends to give you your space.

Everyone except Nastya, the mysterious new girl at school who starts showing up and won't go away until she's insinuated herself into every aspect of his life. But the more he gets to know her, the more of an enigma she becomes. As their relationship intensifies and the unanswered questions begin to pile up, he starts to wonder if he will ever learn the secrets she's been hiding—or if he even wants to.
Review
I don't typically gravitate towards books involving troubled teens finding, and saving, one another. Of all the issue books that I might be inclined to read, this topic is one of the least motivating to me. Perhaps that is why I have yet to continue with Katie McGarry's books after Pushing the Limits (although I do intend to). It's not that I can't enjoy them (clearly). Honestly, I'm not really sure why I shy away from them.

Perhaps it has something to do with the fact that I often find these types of stories to carry a certain level of coincidence and unbelievability with them, The Sea of Tranquility included. Or maybe since I can't relate, I never fully connect with the characters. I've connected with other issue books, but maybe because these characters have been through something traumatic, their personalities and behaviors are changed to a point beyond which I could ever understand. I'm just speculating here...




My point is that despite my hesitation with this subject matter, The Sea of Tranquility still captivated me. And although I might not have experienced the same level of emotion or have come to love this book to as great of an extent as many others given my disposition, I can understand why this book has warranted that reaction and I still enjoyed it greatly. There was something about it that was irresistible.

My fascination with Nastya is what ultimately pulled me in. She was a puzzle to me, one that I needed to solve. I wanted to know the details of what happened to her, wanted an explanation for why she stopped speaking and continued to remain silent, and wanted to understand why she behaves the way that she does. Katja Millay doesn't give this information freely and keeps readers desperate to read faster. Whereas Josh was less of a mystery because his story was given more readily.

I also loved the innocence to this story. Nastya and Josh were good people who had bad things happen to them. And they might have been lost and confused and angry and desperate, but they never lost their innocence. Their pasts and their journey's were distinct to this story and pulled at my heartstrings.

I admit that I had started to hope for an ended that didn't come to be, but I am still pleased with the ending that was given. I like when characters end in a good place.

All in all, this book had a certain readability to it. Nastya and Josh are complex characters and their stories are heartbreaking. As far as troubled teens go, Nastya and Josh's story was one of the better ones.