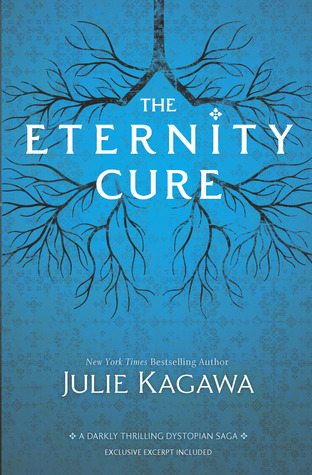 Title:
The Eternity Cure
Series:
Blood of Eden #2
Author:
Julie Kagawa
Publisher:
Harlequin Teen
Release Date:
April 30, 2013
Pages:
434
Source:
Audible, Audiobook
Summary from Goodreads:
In Allison Sekemoto's world, there is one rule left: Blood calls to blood

She has done the unthinkable: died so that she might continue to live. Cast out of Eden and separated from the boy she dared to love, Allie will follow the call of blood to save her creator, Kanin, from the psychotic vampire Sarren. But when the trail leads to Allie's birthplace in New Covington, what Allie finds there will change the world forever—and possibly end human and vampire existence.

There's a new plague on the rise, a strain of the Red Lung virus that wiped out most of humanity generations ago—and this strain is deadly to humans and vampires alike. The only hope for a cure lies in the secrets Kanin carries, if Allie can get to him in time.

Allison thought that immortality was forever. But now, with eternity itself hanging in the balance, the lines between human and monster will blur even further, and Allie must face another choice she could never have imagined having to make.
Review
Oh my god, this sequel was amazing!!

Just days ago I posted my review of The Immortal Rules and was sad to say that I wasn't as impressed as I'd hoped to be. I enjoyed it, but I didn't love it. But this book. THIS BOOK. This book impressed me. This book I loved.

The Eternity Cure was so much more than The Immortal Rules in so many ways. Most noticeably, the plot moved at a much faster pace and the stakes were MUCH higher. There was never a dull moment in this book. In fact, I was almost in a constant state of nervous excitement. And although that ending left me sobbing and speechless, I have to say that the events in this book were perfectly orchestrated for maximum feels. So so good.

And I feel like the characters really grew into themselves. Allie was challenged a hell of a lot more, both physically and emotionally. She had to make a lot of really difficult decisions and I think that made her strong and compassionate personality come through even more so. And Zeke. *sigh*. I was not swooning Zeke in The Immortal Rules but I am swooning Zeke now. Hard. He was so much more badass this time around but still managed to keep that sweet way of his. And I never thought I'd say this, but Jackal grew on me. I might even care about him a little which makes me feel weird. His commentary was much appreciated. As for Sarren, he might just be the creepiest villain I have ever had the non-pleasure of reading about EVER. My god this guy gave me the chills and will in all likelihood give me nightmares as well. And Kanin was Kanin. He turned into this fatherly figure in my eyes. Rock solid.

Let's just say I now understand what all the fuss is about. This book pulled me in, made my care for these characters, and left me dying to pick up The Forever Song (although to be honest I am a little scared to). It was expertly written and feel-inducing. I am still in awe.