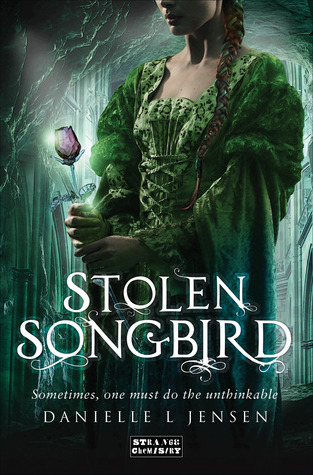 Title:
Stolen Songbird
Series:
The Malediction Trilogy #1
Author:
Danielle L. Jensen
Publisher:
Strange Chemistry
Release Date:
April 1, 2014
Pages:
469
Source:
Purchased
Summary from Goodreads:
For five centuries, a witch's curse has bound the trolls to their city beneath the ruins of Forsaken Mountain. Time enough for their dark and nefarious magic to fade from human memory and into myth. But a prophesy has been spoken of a union with the power to set the trolls free, and when Cécile de Troyes is kidnapped and taken beneath the mountain, she learns there is far more to the myth of the trolls than she could have imagined.

Cécile has only one thing on her mind after she is brought to Trollus: escape. Only the trolls are clever, fast, and inhumanly strong. She will have to bide her time, wait for the perfect opportunity.

But something unexpected happens while she's waiting – she begins to fall for the enigmatic troll prince to whom she has been bonded and married. She begins to make friends. And she begins to see that she may be the only hope for the half-bloods – part troll, part human creatures who are slaves to the full-blooded trolls. There is a rebellion brewing. And her prince, Tristan, the future king, is its secret leader.

As Cécile becomes involved in the intricate political games of Trollus, she becomes more than a farmer's daughter. She becomes a princess, the hope of a people, and a witch with magic powerful enough to change Trollus forever.
Review
I am a die-hard fantasy lover, but when I saw that this book was about trolls I mentally cast it aside thinking that trolls weren't my thing. But thanks to quite a few glowing reviews, and the assurance of others who had the same initial reservations that I did, I decided to give it a try. I was still a little weary when starting it, but it was all for naught. Trolls are SO my thing.
Well, and it just so happens that Prince Tristan, is completely dashing and un-troll-like.
This book captivated me. There is adventure and discovery from the very first pages as
Cécile
is kidnapped and whisked away to a land of legend. Trollus is magical (literally and figuratively) and full of both beauty and danger. I couldn't get enough of this new world that Jensen created. And the trolls were a crucial and wonderful part of Trollus. They fascinated me. And I was swept up in their political struggles; the tyrannical rule by the King and full-bloods and the cruel and unjust treatment of the half-bloods. I was recruited to their cause and I rooted for Cecile and the Prince against their foes. It was an intense and emotional ride.
Cecile and Tristan were quite the team. I loved them both as individual characters and even more so together. They started as enemies but grew to care for each other. But they couldn't show affection for each other when anyone was present because it would ruin Tristan's carefully constructed image and Cecile would be used as a target for the prince. It was a complicated relationship but the rare moments of sweetness that we did get, Cecile's internal dialogue, and the glimpses of Tristan's thoughts were enough to feel the love growing between them.
The story did become a little too romance-heavy in the middle and the pace slowed. This was a negative for me only because I was in love with so much of the story that I needed all of it and I was anxious for what was to come. Romance enthusiasts likely won't be bothered by it.
I loved Cecile's personal transformation. She was a quick learner and soon knew how to play the game as well as the best of them (I am thinking of one glorifying moment in particular). And as the story progressed and Cecile grew up, her concerns became less for herself and more for the people of Trollus. She was an admirable character.
And I loved the role that magic played in this story - within Trollus, within the trolls, and within Cecile. And there is such promise for the role it will play in future books. There is still an air of mystery around Trollus and Cecile that I can't wait to get to the bottom of.
Basically, this book was fantastic and offers a lot by way of a compelling fantasy tale. Don't let the trolls deter you, like they almost did me. It would be a shame to miss out on such a wonderful read.