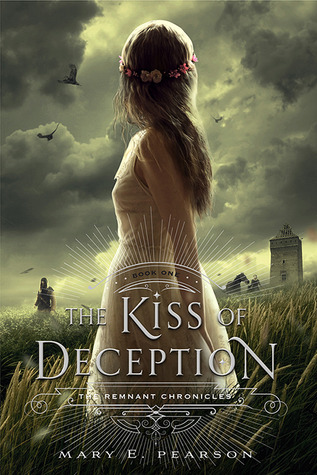 Title:
The Kiss of Deception
Series:
The Remnant Chronicles #1
Author:
Mary E. Pearson
Publisher:
Henry Holt
Release Date:
July 15, 2014
Pages:
492
Source:
ARC, ALAMW
Summary from Goodreads:
In this timeless new trilogy about love and sacrifice, a princess must find her place in a reborn world.

In a society steeped in tradition, Princess Lia's life follows a preordained course. As First Daughter, she is expected to have the revered gift of sight—but she doesn't—and she knows her parents are perpetrating a sham when they arrange her marriage to secure an alliance with a neighboring kingdom—to a prince she has never met.

On the morning of her wedding, Lia flees to a distant village. She settles into a new life, hopeful when two mysterious and handsome strangers arrive—and unaware that one is the jilted prince and the other an assassin sent to kill her. Deception abounds, and Lia finds herself on the brink of unlocking perilous secrets—even as she finds herself falling in love.
Review
Hot damn this book was GOOD.
Lia flees her kingdom and duties as princess to escape an arranged marriage. She settles in a distant village and shortly thereafter two strangers arrive - one who is the prince she fled from, the other, an assassin sent to kill her and prevent the alliance her marriage would create. Lia doesn't know the true identity of either, of course, and neither do readers. All we know is that there is a man named Raffe and a man named Kaden, one is the prince, one is the assassin. And Lia's un-princess-like behavior surprises both men, which motivates them to extend their stay and get to know her. Both vie for her attention, and Lia starts to form attachments to each of them, though one more than the other.
I have never read a story told this way and I freaking loved it. Not knowing who was who but knowing that one of them
wanted
needed to kill her created a whole new layer of suspense and intrigue. The first 300 pages or so take place more or less in the village and are focused on the growing relationship between Lia and these two men. After that, things get even more interesting. I really couldn't read fast enough. I devoured this book.
As great as the plot was, the characters were even better. I loved Lia - her stubbornness, defiance, willpower, discipline, strength, compassion. She was fierce and intelligent. Everything I could hope for in a female lead. A true warrior. AND THESE MEN! Both of these men were swoon worthy to some degree. Both were handsome, capable, honorable, dangerous, complex, and willing to fight for Lia. There was a bit of healthy competition between them over Lia and I ate it up. The dynamic that Pearson created was irresistible. But don't worry love triangle haters, Lia clearly prefers one over the other. Meanwhile, the secondary characters were just as strong, all with their own stories and admirable qualities. Such a wonderful cast of characters all around.
I can't recommend this book enough. But if I can leave you with a piece of advice, don't try and guess who is who! I thought I was supposed to know but was just dense so I used context clues in the beginning to figure out who was the prince and who was the assassin AND I WAS WRONG. So yeah, I had a bit of a surprise at page 303 and had to realign myself.
Really, I loved this one. It is easily a new favorite!