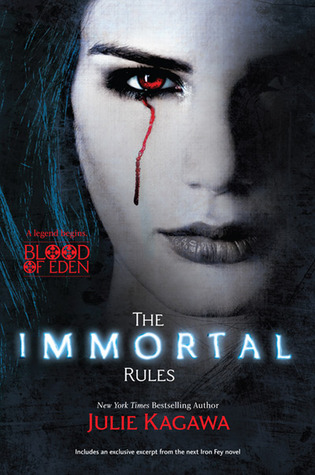 Title:
The Immortal Rules
Series:
Blood of Eden #2
Author:
Julie Kagawa
Publisher:
Harlequin Teen
Release Date:
April 24, 2012
Pages:
485
Source:
Audible, Purchased
Summary from Goodreads:
To survive in a ruined world, she must embrace the darkness….

Allison Sekemoto survives in the Fringe, the outermost circle of a walled-in city. By day, she and her crew scavenge for food. By night, any one of them could be eaten. Some days, all that drives Allie is her hatred of them—the vampires who keep humans as blood cattle. Until the night Allie herself dies and becomes one of the monsters.

Forced to flee her city, Allie must pass for human as she joins a ragged group of pilgrims seeking a legend—a place that might have a cure for the disease that killed off most of civilization and created the rabids, the bloodthirsty creatures who threaten human and vampire alike. And soon Allie will have to decide what and who is worth dying for… again.
Review
I don't have all the much to say about The Immortal Rules. It didn't impress me as much as I had hoped - there are a lot of fans of this series - but I still enjoyed the story.
The beginning was really strong. I loved that Allie turned into a vampire and thought it made for an interesting twist.
Since I have a problem with reading synopses
, I forgot this little fact and was pleasantly surprised. I was really into it when Kanin was training her and her internal struggle over becoming this thing that she hated was believable. I liked Allie.
It was when Allie and Kanin separated and Allie joined the group of humans that things started to slow for me. I don't know if it's just me, but I almost always get bored when the characters are traveling, searching, whatever you want to call it. Allie's predicament of having to hide the fact that she was a vampire made for some interesting moments but ultimately my attention wavered. It didn't help that I wasn't swooning over Zeke. The budding romance was just ok for me but I don't know if that was because of my lack of interest in the pilgrimage.
But towards the end things started to pick back up and the book pulled me back in. There was a lot of action and Allie got to be badass on more than one occasion, which I always love. I mean, she's a vampire, let's have fun with that! And we get a lot of helpful background information like how rabids came to be and who the important players are. The book definitely ended on a strong note.
I'm curious to see where this story is going so I've already started The Eternity Cure (so far so good!). I definitely think this series has promise and would recommend it to fans of paranormal/vampire fiction.