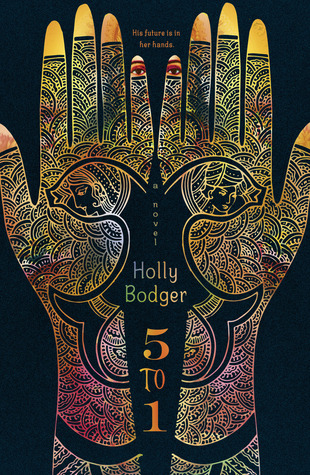 Title:
5 to 1
Author:
Holly Bodger
Publisher:
Knopf Books for Young Readers
Release Date:
May 12, 2015
Source:
ALAMW
/
eARC provided by Publisher in exchange for an honest review (
thanks Random House!
)
Summary from Goodreads:
In the year 2054, after decades of gender selection, India now has a ratio of five boys for every girl, making women an incredibly valuable commodity. Tired of marrying off their daughters to the highest bidder and determined to finally make marriage fair, the women who form the country of Koyanagar have instituted a series of tests so that every boy has the chance to win a wife.

Sudasa, though, doesn't want to be a wife, and Kiran, a boy forced to compete in the test to become her husband, has other plans as well. As the tests advance, Sudasa and Kiran thwart each other at every turn until they slowly realize that they just might want the same thing.

This beautiful, unique novel is told from alternating points of view-Sudasa's in verse and Kiran's in prose-allowing readers to experience both characters' pain and their brave struggle for hope.
Review
5 to 1 was such a quick, powerful and prettily-written book, that reading it felt dreamlike. It takes place over 3 days, at which point a group of boys compete in a series of tests for the chance to win Sudasa's hand in marriage, and thus, a comfortable life. The alternative is a difficult, and often short, life. Kiran is among that group of boys but unlike the rest, he wants to lose so that he may escape the city. But Sudasa notices him and once she does, she can't stop. Choosing him would sentence Kiran to a fate that he doesn't want, the very thing Sudasa is trying to avoid herself, but the alternative would be sentencing herself to something unthinkable. She's out of choices.

I thought the premise of this book was fascinating. While it might be unlikely for a city such as Koyanager to ever exist, and the gender ratio to become so extremely imbalanced, it was still an interesting concept to explore in light of India's history. And 5 to 1 raised some thought-provoking question about gender selection, arranged marriages, obedience, vengeance and more. For such a short book, 5 to 1 packed a mighty punch.

With the way this book was written, I found it so easy to get swept up in Sudasa's world and the war raging inside of her. Her grandmother is forcing her hand and it is difficult for Sudasa to defy her when all Sudasa knows how to do is what she is told. She wanted more but she also didn't know how to get it. I think we can all relate, to some extent, to the fear and uncertainty of standing up for ourselves and stepping outside of our comfort zones.For Sudasa, this was tenfold.

Bodger also includes brief chapters from Kiran's POV that grant us access to his thoughts, which I always enjoy. Kiran lived a very different life and has no sympathy for Sudasa, in the beginning, believing her to be spoiled and without troubles. He has his own plan and he won't be distracted from them, by anyone or anything. But then he realizes that Sudasa and himself might not be so different and grows to sympathize for her situation. Eventually they both realize that they could help each other.

Simply put, this book is as beautiful on the inside as it is on the outside. It is a compelling, effortless, and well-spun tale of a far distant world. I only wish there was more of it. I would have loved to read another 100+ pages and dig deeper into these two dynamic characters.


About the Author