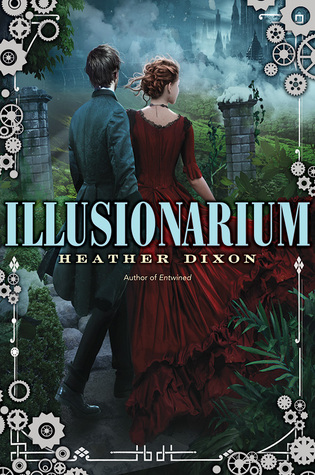 Title:
Illusionariumm
Author:
Heather Dixon
Publisher:
Greenwillow
Release Date:
May 19, 2015
Source:
eARC provided by Publisher in exchange for an honest review (
thanks HarperCollins!
)
Summary:
From the author of the acclaimed Entwined, a wholly original fantasy starring a dashing young apprentice scientist drawn into a world of adventure, fame, rebellion, and illusion. A dazzling journey that combines the evocative atmosphere of Erin Morgenstern's The Night Circus with the sparkling wit of Gail Carriger's Etiquette & Espionage.
Jonathan is perfectly ordinary. But then—those magic words at the beginning of every good adventure—the king swoops into port, and Jonathan and his father are enlisted to find the cure to a deadly plague. Jonathan discovers that he's a prodigy at working with a new chemical called fantillium, which creates shared hallucinations—or illusions. And just like that, he's knocked off his path. Through richly developed parallel worlds, vivid action, a healthy dose of humor, and gorgeous writing, Heather Dixon spins a story that is breathtaking and wholly original.
Review
I'm just going to dive right in with this review – the world building in this book is seriously lacking. Readers are thrown right into this vastly different - and to be quite honest, confusing - world with absolutely no introduction. From the start, there were words I didn't recognize and backstories that I didn't understand and it didn't get much clearer as the story progressed. And I couldn't picture anything. It was overwhelming and frustrating and significantly impacted my reading experience.
And what world building I could grasp just didn't make much sense to me. Like how was illusioning for entertainment supposed to save Nod'ol, especially since breathing fantillium created monsters out of people? And how could you jump between worlds in the first place, if everything to happen in an illusion wasn't real? Basically, the entire concept of illusioning and how you could create and interact with things that were real but not real was lost on me. But let's say I understood al of this, it's not like my confusion ended there. I struggled with little things too – like why the characters did what they did - if you can call that a little thing.
BUT to highlight some positives... this book was very fast paced and full of adventure. If you don't need a book to make perfect sense then you may be easily swept up in this race for the cure and illusion madness. And these characters did have their moments, specifically Lockwood, whom I enjoyed.
At the end of the day, the potential was there, it was the execution that was the problem.