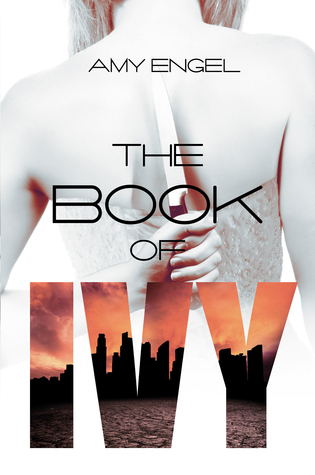 Title:
The Book of Ivy
Author:
Amy Engel
Series:
The Book of Ivy #1
Publisher:
Entangled: Teen
Release Date:
November 11, 2014
Summary from Goodreads:
After a brutal nuclear war, the United States was left decimated. A small group of survivors eventually banded together, but only after more conflict over which family would govern the new nation. The Westfalls lost. Fifty years later, peace and control are maintained by marrying the daughters of the losing side to the sons of the winning group in a yearly ritual.

This year, it is my turn.

My name is Ivy Westfall, and my mission is simple: to kill the president's son—my soon-to-be husband—and restore the Westfall family to power.

But Bishop Lattimer is either a very skilled actor or he's not the cruel, heartless boy my family warned me to expect. He might even be the one person in this world who truly understands me. But there is no escape from my fate. I am the only one who can restore the Westfall legacy.

Because Bishop must die. And I must be the one to kill him…
Review
As a
follower of trends
, I was motivated to read The Book of Ivy due to all of the positive hype surrounding it. I have some trusted blogger friends who really enjoyed it and that was enough for me. So I purchased the audiobook version and dove right in with somewhat high expectations. As I was listening, I did think to myself "I've heard this story before" meaning that The Book of Ivy is not necessary a new take on Dystopian, and yet, I was unquestionably drawn into the story. It is well written, well-paced and well characterized.
In Ivy's world, arranged marriages are used as a tool to keep the peace between two factions in society. As the daughter of the man who opposed the current President, Ivy has to marry the President's son, Bishop. Only her father has given her an alternate task – to gain Bishop's trust, gather information, and then kill him to start a revolution. But naturally Bishop is nothing like his father and Ivy begins to fall for him. On top of that, her time spent with the enemy reveals some truths that shake Ivy's beliefs. Torn between love for her family and love for Bishop, Ivy sees no way out of her predicament without someone getting hurt, so who will be sacrificed? (dun dun dun)
I really enjoyed being in Ivy's head. There were times when she was level-headed and rational and other times when she was rightfully outspoken and reckless. But she was always fiercely true to herself as well as fair and good. Basically, I really liked her. Bishop also won me over with his unfailing patience and compassion. The slow-build to their relationship was perfect and so, so easy to root for. But that ending just solidified it for me. Bishop's devotion to Ivy and unwavering conviction was amazing.
Although there is not a whole lot that marked this book as unique to me and it was a little predictable, I still enjoyed it and would absolutely recommend it, especially for dystopian fans. The story is compelling and the characters shine. I am excited for the next book, which I believe is also the conclusion (for duology fans).