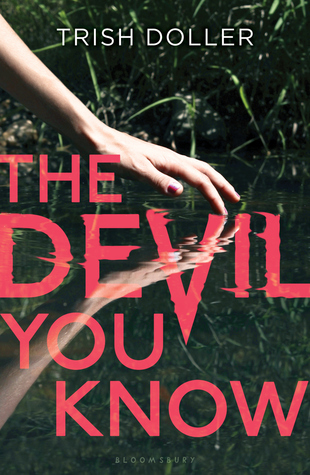 Title:
The Devil You Know
Author:
Trish Doller
Publisher:
Bloomsbury USA Childrens
Release Date:
June 2, 2015
Source:
eARC provided by Publisher in exchange for an honest review (
thanks Bloomsbury!
)
Summary from Goodreads:
Eighteen-year-old Arcadia wants adventure. Living in a tiny Florida town with her dad and four-year-old brother, Cadie spends most of her time working, going to school, and taking care of her family. So when she meets two handsome cousins at a campfire party, she finally has a chance for fun. They invite her and friend to join them on a road trip, and it's just the risk she's been craving-the opportunity to escape. But what starts out as a fun, sexy journey quickly becomes dangerous when she discovers that one of them is not at all who he claims to be. One of them has deadly intentions.
A road trip fling turns terrifying in this contemporary story that will keep readers on the edge of their seats.
Review
I liked The Devil You Know and yet I find myself at a loss for words for this review. It was a fun and exciting read but also a little predictable. I enjoyed the outdoorsy setting and the ominous undertones, I am just uncertain about this book's lasting power. It's not the best thriller I have ever read but that's not to say it's not good either. Then again, I am a tough sell when it comes to thriller.
Cadie had to give up being a normal teenager when her mother passed away and her father fell apart. Now all she does is work and take care of her younger brother and it's making her stir crazy. When two alluring strangers invite her along for a quick trip down the Florida coast, Cadie does the first rebellious thing in her life and says yes. I myself would never do something so risky but I also don't blame Cadie for wanting a little bit of adventure.
The only thing that irked me a little bit was how Cadie took no precautions and ignored all the warning signs. Another girl was supposed to come along but had to make a sudden departure in the middle of the night and it ends up being just Cadie. Then naturally she forgets her cell phone charger and her phone dies and she has no money. Basically, she is completely at the mercy of these two strangers as they head into the middle of nowhere. And one of them she already knows has a violent history. But her hormones are going crazy and she's thrown caution to the wind. I guess it wouldn't have made for much of a story had she not, but I couldn't help but be a little exasperated by her lack of sense. Other than that, I liked Cadie even though we didn't have much in common.
As for the boys, well, I admit that they were attractive in that bad boy, mysterious kind of way. One of them always made me a little nervous but the other had a sweet side that I enjoyed seeing. Again, I don't think it was that hard to see through each of them, but the dynamic was still interesting to watch unfold.
At the end of the day there is just something about Trish Doller's writing style that is just effortless and pulls you in. Again, I enjoyed reading this one - it was daringly adventurous and thrilling - I'm just not IN LOVE with it. Something Like Normal remains my favorite Trish Dollar book. But if you are looking for a solid thriller, and are a fan of Trish Dollar, than I'd definitely say give it a try!