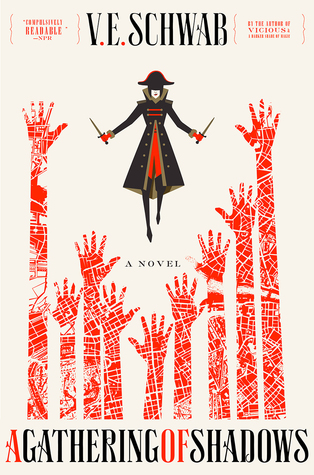 Title:
A Gathering of Shadows
Author:
V. E. Schwab
Series:
A Darker Shade of Magic #2
Publisher:
Tor
Release Date:
February 23, 2016
Source:
ARC received from Publisher in exchange for an honest review (thank you Tor!!)
Summary from Goodreads:
Four months have passed since the shadow stone fell into Kell's possession. Four months since his path crossed with Delilah Bard. Four months since Rhy was wounded and the Dane twins fell, and the stone was cast with Holland's dying body through the rift, and into Black London.

In many ways, things have almost returned to normal, though Rhy is more sober, and Kell is now plagued by his guilt. Restless, and having given up smuggling, Kell is visited by dreams of ominous magical events, waking only to think of Lila, who disappeared from the docks like she always meant to do. As Red London finalizes preparations for the Element Games—an extravagant international competition of magic, meant to entertain and keep healthy the ties between neighboring countries—a certain pirate ship draws closer, carrying old friends back into port.

But while Red London is caught up in the pageantry and thrills of the Games, another London is coming back to life, and those who were thought to be forever gone have returned. After all, a shadow that was gone in the night reappears in the morning, and so it seems Black London has risen again—meaning that another London must fall.
Review
For those of you familiar with Victoria Schwab's work, I can promise you that A Gathering of Shadows will not disappoint. This book, this series, is just as charming and impressive as her others, if not more so. And for those of you not familiar with Victoria Schwab's work, A Darker Shade of Magic is a great place to start. I am completely smitten with these books. The characters, the world, the plot, the writing – they are all perfection.
A Gathering of Shadows picks up shortly after where A Darker Shade of Magic leaves off. And for those of you who've already read A Darker Shade of Magic (I am assuming that most of you who are reading this review have), you know that a lot of shit went down. Therefore, our characters are all going through some kind of adjustment period, which is a large focus of this book. Lila becomes an even more prominent character in AGOS and you won't hear any complaints from me. I freaking love this girl. She's made a name for herself aboard a ship and through her adventures we meet a whole crew of new characters – the most noteworthy being Alucard Emery who Victoria Schwab once described as the "witty, mysterious, eyebrow-pierced captain of the Night Spire". I LOVED the dynamic between Lila and Alucard – they were constantly challenging one another as they tried to discover each other's secrets. It was like a playful power-struggle. And let me tell you, Alucard was FULL of surprises. THERE IS A NEW SHIP AND I SHIP IT SO HARD OMG.
Meanwhile, on the Kel and Rhy front, things are TENSE. The events that transpired at the end of ADSOM changed both of them in pretty significant ways and they are doing their best to find a new norm. Kel is especially struggling in this book. But fortunately for them all, they have the Element Games as a distraction. It is no secret that I love games, and magic games even more so, so I welcomed this addition to the story. A few of our own even compete in the tournament and I loved rooting for each of them.
Although AGOS largely takes place in Red London there are some snippets of what's happening in the other Londons. White London is going through quite a transformative period but I won't say any more than that. Just know that every chapter involving White London made my heart race.
AGOS did not move the plot forward as significantly as ADSOM did but it was one hell of a book regardless. I loved reading every second of this book and already wait with bated breath for the sequel. Especially after that ending. It was a tough one to swallow folks and frankly, I am scared for what Victoria Schwab has in store for us. But I definitely know it will bring the feels.
Read this one folks. You won't regret it!