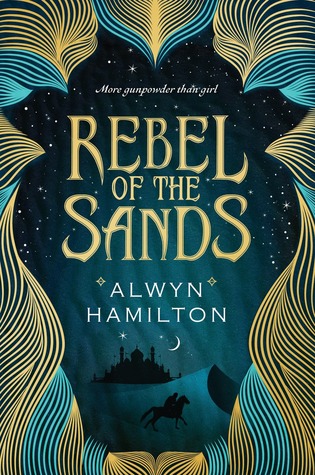 Title:
Rebel of the Sands
Author:
Alwyn Hamilton
Series:
Rebel of the Sands #1
Publisher:
Penguin
Release Date:
March 8, 2016
Source:
ALA MW
Summary from Goodreads:
She's more gunpowder than girl—and the fate of the desert lies in her hands.

Mortals rule the desert nation of Miraji, but mystical beasts still roam the wild and barren wastes, and rumor has it that somewhere, djinni still practice their magic. But there's nothing mystical or magical about Dustwalk, the dead-end town that Amani can't wait to escape from.

Destined to wind up "wed or dead," Amani's counting on her sharpshooting skills to get her out of Dustwalk. When she meets Jin, a mysterious and devastatingly handsome foreigner, in a shooting contest, she figures he's the perfect escape route. But in all her years spent dreaming of leaving home, she never imagined she'd gallop away on a mythical horse, fleeing the murderous Sultan's army, with a fugitive who's wanted for treason. And she'd never have predicted she'd fall in love with him...or that he'd help her unlock the powerful truth of who she really is.
Review
Rebel of the Sands was my kind of book. One of the first things we learn about our main girl Amani is that she is an incredibly skilled sharpshooter and a total smart-mouth. So I immediately loved her. But within the first few pages we also learn that she is smart, calculating, defiant, capable, proud, careful, self-reliant, strong and possessive of so many other impressive traits. How could I not root for this chick?
Then we are introduced to a world of magic and war and rebellion and so much more. I enjoyed exploring the ins and outs of it as Amani escaped her small town and travelled across the dessert. For those who love gender- bending, Amani pretends to be a boy for much of the book (and shows the boys how it is done.) She had quite a few eye-opening experiences though and a lot of growing up to do. This world was not the forgiving sort. Tension was high among the locals and the foreign solders. People with magic were being enslaved or murdered. And a rebellion was stirring up even more trouble. There were plots within plots and tons of surprises. In essence, there was no shortage of things to keep the plot moving and my eyes glued to the pages.
Now throw in a dashing love interest and a chemistry that is off the charts. I loved our mysterious male lead and how Amani and Jin balanced each other out. They challenged one another constantly but also had an effortless way with each other. Their back and forth was refreshing and I couldn't get enough of these two.
So basically, I devoured this book. It was a wonderful introduction to a new and exciting world with quite the charismatic set of characters. I was impressed by the writing and truly think that this series is full of potential. I cannot wait for the sequel! I am sure that other Fantasy fans will eat it up but I would urge others to try this book as well. It's got a lot to offer.