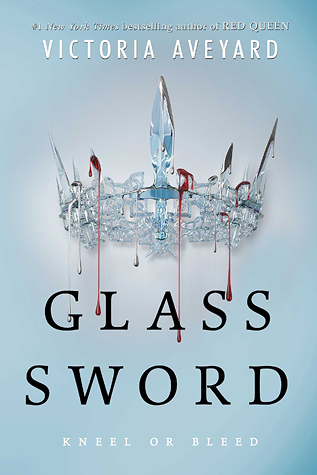 Title:
Glass Sword
Author:
Victoria Aveyard
Series:
Red Queen #2
Publisher:
HarperTeen
Release Date:
February 9, 2016
Source:
ALA MW
Summary from Goodreads:
Mare Barrow's blood is red—the color of common folk—but her Silver ability, the power to control lightning, has turned her into a weapon that the royal court tries to control.

The crown calls her an impossibility, a fake, but as she makes her escape from Maven, the prince—the friend—who betrayed her, Mare uncovers something startling: she is not the only one of her kind.

Pursued by Maven, now a vindictive king, Mare sets out to find and recruit other Red-and-Silver fighters to join in the struggle against her oppressors.

But Mare finds herself on a deadly path, at risk of becoming exactly the kind of monster she is trying to defeat.

Will she shatter under the weight of the lives that are the cost of rebellion? Or have treachery and betrayal hardened her forever?
Review
I am almost too sad to write this review. Last year, Red Queen was one of my favorite reads. I loved it so much and couldn't wait to read Glass Sword. I even had it pre-ordered which is kind of a rarity for me, reserved for only a few of my most anticipated releases. I fully expected to love it. So what happened?
I was bored, mostly. Glass Sword is 400+ pages of middle book syndrome. There was too little action and too many words. Like, ya know when stuff is going on but it feels like it's happening at a snail's pace because you have to read 50 pages of dialogue in between each somewhat significant moment? Or it feels as if too much is happening in the background? That's kind of what was going on in this book, or at least my best attempt at explaining how it felt to read it. The writing started to feel repetitive and meaningless and I found myself impatient to finish the book so I could move on to something I enjoyed more. And although the ending was good, I didn't feel like it deserved the 400+ pages it took to get there.
I was also annoyed by Mare. She reminded me a little bit of Juliette from the Shatter Me series and for those who don't know, I HATE Juliette. She was WAY too self-obsessed and a little too arrogant and I honestly didn't recognize her at times. In Red Queen she was someone I admired and could easily root for. In Glass Sword, I found myself wanting to wring her neck one too many times just to shut her up. This is obviously not a good feeling to have about your heroine.
But I was more or less OK with everything else to happen. I didn't mind Mare's interest in Cal at all. I liked quite a few of the secondary characters. And there were even a couple developments that took me completely by surprise. And again, the ending was strong albeit a little sudden.
I wouldn't say I disliked this book, but I was disappointed enough by it that I canceled my pre-order. It was not the sequel I had hoped for and I didn't really enjoy reading it which saddens me like you wouldn't believe. But I've seen some positive reviews on Goodreads so I could turn out to be the black sheep on this one. And I do think the last book has potential, I've just lost most of my confidence in this series.