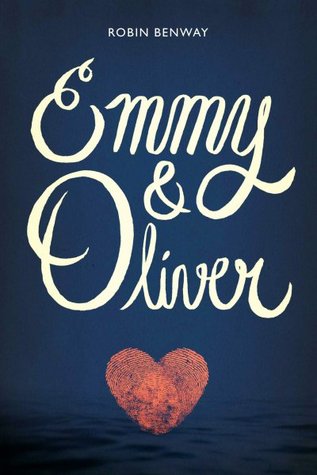 Title:
Emmy & Oliver
Author:
Robin Benway
Publisher:
HarperTeen
Release Date:
June 23, 2015
Source:
eARC provided by Publisher in exchange for an honest review (
thanks HarperTeen!
)
Summary from Goodreads:
Emmy's best friend, Oliver, reappears after being kidnapped by his father ten years ago. Emmy hopes to pick up their relationship right where it left off. Are they destined to be together? Or has fate irreparably driven them apart?

Emmy just wants to be in charge of her own life.

She wants to stay out late, surf her favorite beach—go anywhere without her parents' relentless worrying. But Emmy's parents can't seem to let her grow up—not since the day Oliver disappeared.

Oliver needs a moment to figure out his heart.

He'd thought, all these years, that his dad was the good guy. He never knew that it was his father who kidnapped him and kept him on the run. Discovering it, and finding himself returned to his old hometown, all at once, has his heart racing and his thoughts swirling.

Emmy and Oliver were going to be best friends forever, or maybe even more, before their futures were ripped apart. In Emmy's soul, despite the space and time between them, their connection has never been severed. But is their story still written in the stars? Or are their hearts like the pieces of two different puzzles—impossible to fit together?
Review
Emmy & Oliver was a very easy and enjoyable read - both moving and uplifting, which is of no surprise to me considering that Robin Benway wrote it. While this book was more serious in tone than her Also Known As duology, it had many of the same characteristics that had me falling in love with it - endearing characters and wonderful storytelling to name a couple.
There was so much about this book that I could sympathize with. Oliver's struggle to adapt to a new life. Everyone else's struggle to adapt to a new Oliver. Oliver at war with his own mixed feelings. Emmy at war with her parent's overprotectiveness. And at the center of it all, Emmy & Oliver trying to establish a new norm. There was so much emotion. So much change. So much reflection. And so much growth. It was a really well-told and beautiful story.
I loved Emmy's patience and ease with Oliver. She was there for him when he needed it most. They were both such commendable characters and their relationship was slow and sweet. And I loved loved loved the friendship between Emmy, Drew and Caroline. These 3 were rock solid and knew each other like only the best of friends could. I enjoyed watching their exchanges and it made me think of my close friendships. These things made me smile while the rest of the book pulled on my heartstrings.
Robin Benway is an artist and this book her latest masterpiece. It will definitely carry its own in the contemporary genre and I will remember my reading experience fondly. I recommend this one!