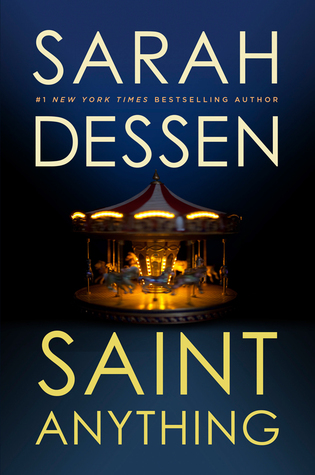 Title:
Saint Anything
Author:
Sarah Dessen
Publisher:
Viking Juvenile
Release Date:
May 5, 2015
Source:
ALA MW
Summary from Goodreads:
Peyton, Sydney's charismatic older brother, has always been the star of the family, receiving the lion's share of their parents' attention and—lately—concern. When Peyton's increasingly reckless behavior culminates in an accident, a drunk driving conviction, and a jail sentence, Sydney is cast adrift, searching for her place in the family and the world. When everyone else is so worried about Peyton, is she the only one concerned about the victim of the accident?

Enter the Chathams, a warm, chaotic family who run a pizza parlor, play bluegrass on weekends, and pitch in to care for their mother, who has multiple sclerosis. Here Sydney experiences unquestioning acceptance. And here she meets Mac, gentle, watchful, and protective, who makes Sydney feel seen, really seen, for the first time.

The uber-popular Sarah Dessen explores her signature themes of family, self-discovery, and change in her twelfth novel, sure to delight her legions of fans.
Review
There was something about this book that made it un-put-down-able. Maybe it was that Sydney was such a good person – she carried a guilt for her brother's actions and was the only one in her family to think of the real victim of the crash, David. Maybe it was that my heart couldn't help but reach out to her as she was repeatedly overshadowed by her brother and unfairly treated by her parents. And maybe it was that I wanted to protect her from the incredibly creepy Ames and anyone else that could possibly inflict more pain on her. For all these reasons and more I was deeply invested in Sydney's story and wanted good things to come to her. And so I flew through this one waiting for her to have her moment.
I loved how Sydney found a home with another family – one that was accepting of her, understood what she was going through and didn't make her feel invisible. The Chathams were complicated and crazy but I felt like I really got to know them. They reminded me a little bit of the Garretts from My Life Next Door - at least in a way that their presence was a huge and welcome part of the book.
I loved Sydney's friendship with Layla – who was this beautiful and vulnerable soul. There was this one particular moment in the book where she protects Sydney from Ames and it literally brought me to tears. It was that sweet. And then Sydney's slow-burn relationship with Layla's older brother Mac. Wonderful. The characters in this book and their relationships with one another really shine. This wasn't just Sydney's story.
Unfortunately Sydney didn't get the moment I had hoped she would but her situation did improve by the end. And I guess it was fitting for Sydney's personality – who wasn't the shouting, impatient type. Rather than dramatically point out her parent's unfairness and negligence, her parents kind of came to realize it on their own. I would have exploded much sooner and that's what I'm used to seeing these types of books come to, so it caught me a little off guard.
But without a doubt, I loved this book. I am no Sarah Dessen expert but in my mind, Saint Anything is just as good as her other books that I've read. So if you are already a fan, make sure to pick this one up. Dessen is a contemporary knockout and Saint Anything is just another masterpiece to add to her repertoire. And now I need a copy for my shelves!