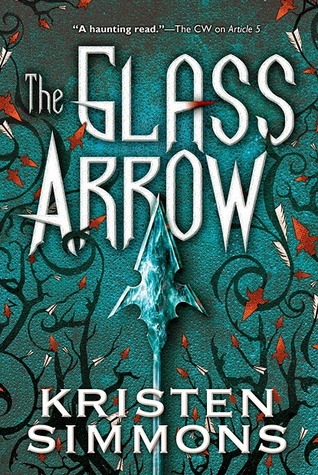 Title:
The Glass Arrow
Author:
Kristen Simmons
Publisher:
Tor Teen
Release Date:
February 10, 2015
Summary from Goodreads:
The Handmaid's Tale
meets
Blood Red Road
in
Glass Arrow
, the story of Aya, who lives with a small group of women on the run from the men who hunt them, men who want to auction off breeding rights to the highest bidder.
In a world where females are scarce and are hunted, then bought and sold at market for their breeding rights, 15-year old Aya has learned how to hide. With a ragtag bunch of other women and girls, she has successfully avoided capture and eked out a nomadic but free existence in the mountains. But when Aya's luck runs out and she's caught by a group of businessmen on a hunting expedition, fighting to survive takes on a whole new meaning.
Review
The Glass Arrow is a strong standalone Dystopian novel and I can see why many have fallen in love with it. Growing up in the wild has led Aya to be fiercely independent and skilled at surviving. When she is captured and brought to the Garden for auction, she does everything in her power to escape and make it back to her family. I admired her tenacity and loyalty even if it sometimes clouded her judgement. Overall, she was easy to like and root for.
The brewing romance in the middle of the book wasn't my favorite and I think it's execution was the biggest shortcoming in the story. I thought it was a little weird that she becomes so attached to someone in such a short period of time when she couldn't even have a two-sided conversation with him. His attentions were at least explained away later, but hers were mostly chalked up to loneliness. But this book really shines in the final 3rd and thats when everything comes together. It was pretty much nonstop at that point and I really enjoyed it.
The premise of this book - that women are used for breeding and then discarded - is a dark and difficult one to swallow, especially since many of the women accepted and even embraced their fate. Women in this society were treated no better than cattle for slaughter and there were moments in this book that made me sick to my stomach. But at the same time, this book was not as dark as I prepared myself for it to be. I've read much darker. And I just wanted to put that out there in case some of you shied away from reading this one book because of how harsh it was built up to be. I'm not saying it's easy, but it's not graphic or overwhelming.
Aside from my comments on the middle third, I don't really have any complaints about this book. It was a pleasant read with many likable elements. I wouldn't say I read a lot of dystopian, but The Glass Arrow definitely stands out from what I have read. It just wasn't a favorite. But not every book can be.