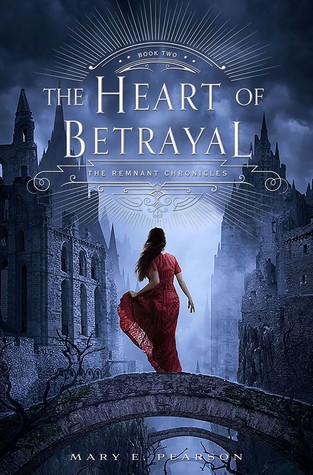 Title:
The Heart of Betrayal
Author:
Mary E. Pearson
Series:
The Remnant Chronicles #2
Publisher:
Henry Holt and Co.
Release Date:
July 7, 2015
Source:
ALA MW
Summary from Goodreads:
Intrigue abounds in this hotly anticipated sequel to The Kiss of Deception!
Held captive in the barbarian kingdom of Venda, Lia and Rafe have little chance of escape. Desperate to save her life, Lia's erstwhile assassin, Kaden, has told the Vendan Komizar that she has the gift, and the Komizar's interest in Lia is greater than anyone could have foreseen.
Meanwhile, nothing is straightforward: there's Rafe, who lied to Lia, but has sacrificed his freedom to protect her; Kaden, who meant to assassinate her but has now saved her life; and the Vendans, whom Lia always believed to be barbarians. Now that she lives amongst them, however, she realizes that may be far from the truth. Wrestling with her upbringing, her gift, and her sense of self, Lia must make powerful choices that will affect her country... and her own destiny.
Review
Want to know what happens when you bring a captured princess, a conniving prince, a love-struck assassin, and a power-hungry enemy ruler all together? Then read The Heart of Betrayal. Power struggles, politics, romance, betrayal, deception – these are just a few of the things you can expect to find in this book.

The relationship dynamics were incredible. And the tension was so thick you could cut it with a knife. Lia is playing with Kaden's feelings to gain freedom. Rafe is betting on the Komazir's greed to stay alive. Kaden is testing the Komazir's patience to protect Lia. The Komazir is using Lia to gain political favor. So much is happening in this book with these characters and I was never sure who would come out ahead. In the end, in a way, I'm not sure anyone did. And I loved every second of it.
We really get to know Venda and its people in this sequel and like Lia, I grew to care for many in this city. We learn the complicated history between these three kingdoms and something that Venda has been planning for a while. I can't wait to see what Pearson has in store for us in the last book. There's no doubt in my mind that it's going to be epic.

Also, the ship in this book brings all the feels. Just saying.
The Heart of Betrayal was a damn good sequel to The Kiss of Deception and The Remnant Chronicles has become a new favorite series of mine. If you are looking for a series that has it all, then look no further. My only complain is that it ended. ;)