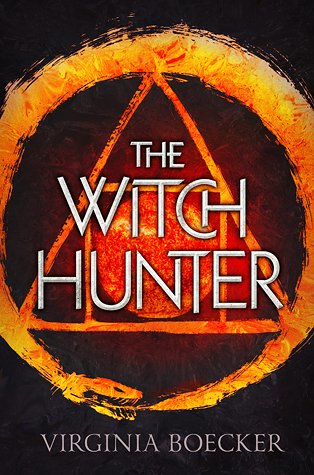 Title:
The Witch Hunter
Author:
Virginia Boecker
Publisher:
Little, Brown Books for Young Readers
Release Date:
June 2nd 2015
Source:
ARC received from publisher
Summary from Goodreads: The magic and suspense of Graceling meet the political intrigue and unrest of Game of Thrones in this riveting fantasy debut. Your greatest enemy isn't what you fight, but what you fear. Elizabeth Grey is one of the king's best witch hunters, devoted to rooting out witchcraft and doling out justice. But when she's accused of being a witch herself, Elizabeth is arrested and sentenced to burn at the stake. Salvation comes from a man she thought was her enemy. Nicholas Perevil, the most powerful and dangerous wizard in the kingdom, offers her a deal: he will save her from execution if she can break the deadly curse that's been laid upon him. But Nicholas and his followers know nothing of Elizabeth's witch hunting past--if they find out, the stake will be the least of her worries. And as she's thrust into the magical world of witches, ghosts, pirates, and one all-too-handsome healer, Elizabeth is forced to redefine her ideas of right and wrong, of friends and enemies, and of love and hate. Virginia Boecker weaves a riveting tale of magic, betrayal, and sacrifice in this unforgettable fantasy debut.
Review
Dark, magical, and entertaining -
three words that I would say sum up my feelings on The Witch Hunter. The vivid imagery painted such an enchantingly dark image of witchcraft, hunters, and royal politics; it was one of my favorite aspects of the book! While at times the plot did slow down, there was still a great mix of world building and action throughout the story. With that being said, here are 5 reasons I really enjoyed The Witch Hunter:
1.
Awesome dark magical witch dinners
- Nicholas Perevil is one rad wizard! What I would do to sit at a table full of magical folks...
2.
Surprising twists and turns
- There were aspects of the plot that took me by surprise and kept me on my toes.
3.
The romance -
The romance was not a huge player in the story; instead it complimented the adventure and action. While there were some hints of a love triangle, I think in the end the romance was a nice slow build and ended with a fairly solid one love option.
4.
The ending -
The ending was a well-delivered conclusion with enough explanation yet still questions and intrigue setting up for the rest of the series.
5.
Adventure -
I enjoyed the adventure and crazy scenarios that Elizabeth continued to conquer. She was a stubborn, yet very strong, female lead. She had to face her fears and adjust her stereotypes to survive and face the various challenges.
The Witch Hunter move along at a much slower pace then I sometimes preferred at times but I still found this book to be a fun, enjoyable read.