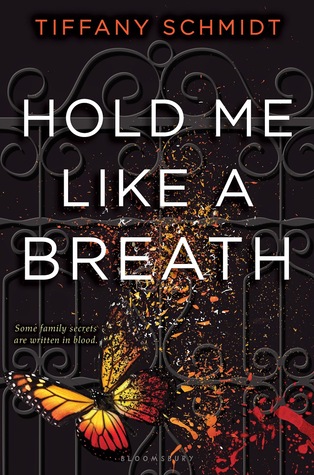 Title:
Hold Me Like a Breath
Author:
Tiffany Schmidt
Publisher:
Bloomsbury
Release Date:
May 19th 2015
Source:
ARC received from publisher
Summary from Goodreads:
Penelope Landlow has grown up with the knowledge that almost anything can be bought or sold—including body parts. She's the daughter of one of the three crime families that control the black market for organ transplants.

Penelope's surrounded by all the suffocating privilege and protection her family can provide, but they can't protect her from the autoimmune disorder that causes her to bruise so easily.

And in her family's line of work no one can be safe forever.

All Penelope has ever wanted is freedom and independence. But when she's caught in the crossfire as rival families scramble for prominence, she learns that her wishes come with casualties, that betrayal hurts worse than bruises, that love is a risk worth taking . . . and maybe she's not as fragile as everyone thinks.
Review
Hold Me Like A Breath is drama and action heavy book that follows the story of a girl who grows up in a secret crime family. The crazy life that the Landlow's live immediately peaked my interest. The dangerous and one of a kind family lifestyle really held my attention. The plot has some twists and turns that were unexpected and kept me on my toes. I appreciated the unpredictability of what was to happen next and shocked by some of the events. Being part of a rich crime family does allow Penelope to live a unique and more privileged lifestyle but it also brings a sense of danger and lack of safety to her life. The author never shied away from the potential repercussions of being in such a situation.
At times I felt like the plot lost its fast pace and focused more on the romantic plot line; at first I felt that it focused too much on the romance but upon reflection of the story I actually felt that it had its place and helped Penelope really develop and become her own person. Not to mention at the end it all makes sense in the overall story. There is no love triangle but two love interests are presented in the story, each served an important role in the overall drama.
My favorite aspect was in fact not the romance but the dynamics and actions that ensue due to the secret selling of organs. The families are not necessary bad people, they have good sides that make you root for their success, they love each other and do help those in need. However, there is a hefty cost associated with that help. Penelope's strength really stood out, at first she really was not the most like-able character but as the story progress she had to take risks and handle incredibly hard situations. Hold Me Like a Breath focuses on a young girl finding independence at a cost; it blends drama, romance, and secrets to create a dark intriguing book.