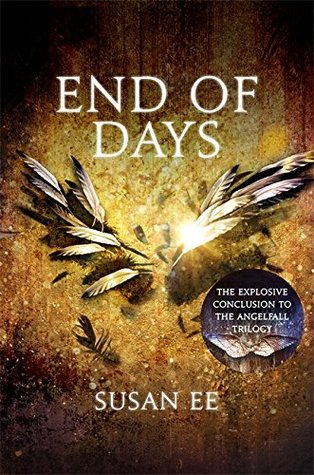 Title:
End of Days
Series:
Penryn & the End of Days #3
Author:
Susan Ee
Publisher:
Hodder & Stoughton
Release Date:
May 12th 2015
Source:
Gifted from my awesome co-blogger!
Summary from Goodreads:
End of Days is the explosive conclusion to Susan Ee's bestselling Penryn & the End of Days trilogy.

After a daring escape from the angels, Penryn and Raffe are on the run. They're both desperate to find a doctor who can reverse the twisted changes inflicted by the angels on Raffe and Penryn's sister. As they set off in search of answers, a startling revelation about Raffe's past unleashes dark forces that threaten them all.

When the angels release an apocalyptic nightmare onto humans, both sides are set on a path toward war. As unlikely alliances form and strategies shift, who will emerge victorious? Forced to pick sides in the fight for control of the earthly realm, Raffe and Penryn must choose: Their own kind, or each other?
Review
AHHH, goodness do I love this series. Without hesitation, Susan Ee drops the reader right back into the crazy dark post-apocalyptic world of the End of Days. End of Days really has a bit of everything; there are intense battle scenes, romantic tension, and a terrifyingly dark setting.
The romance is picked up a bit more than I was expecting, kind of took me by surprise. As far as characters go, End of Days presents the reader with more background on certain angels and gives old characters some shining roles. The family relationship and unique love within Penryn's family is one of my favorite parts of End of Days. Every family is unique and expresses love in their own way and I believe Susan Ee captured that extremely well. They are each essential characters to the storyline.
The action scenes are intense and violent at times but fit the plot and mood of the book. There are some unexpected turns and surprising situations that kept me on my toes, always guessing. The only reason I knock off half a star was a certain part of the story I wish had a bit more development (won't mention more, don't want to spoil it!)
End of Days is a high energy, high stakes, page turning conclusion to the series. It did not disappoint. If you have yet to start this series, get on it :) It is unlike any angel book I have ever read and I mean that as a sincere compliment!