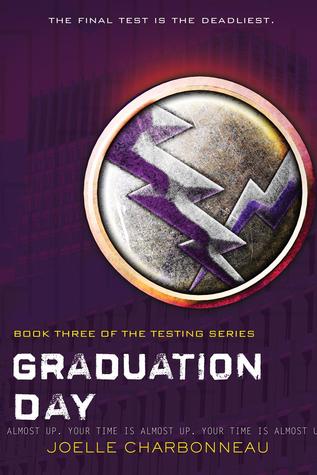 Title:
Graduation Day
Series:
The Testing #3
Author:
Joelle Charbonneau
Publisher:
HMH Books for Young Readers
Release Date:
June 17, 2014
Pages:
304
Source:
ARC, ALA
Summary from Goodreads:
In book three of the Testing series, the United Commonwealth wants to eliminate the rebel alliance fighting to destroy The Testing for good. Cia is ready to lead the charge, but will her lethal classmates follow her into battle?

She wants to put an end to the Testing
In a scarred and brutal future, The United Commonwealth teeters on the brink of all-out civil war. The rebel resistance plots against a government that rules with cruelty and cunning. Gifted student and Testing survivor, Cia Vale, vows to fight.

But she can't do it alone.
This is the chance to lead that Cia has trained for - but who will follow? Plunging through layers of danger and deception, Cia must risk the lives of those she loves--and gamble on the loyalty of her lethal classmates.

Who can Cia trust?
The stakes are higher than ever-lives of promise cut short or fulfilled; a future ruled by fear or hope--in the electrifying conclusion to Joelle Charbonneau's epic Testing trilogy. Ready or not…it's Graduation Day.

The Final Test is the Deadliest!
Review
Graduation Day was the perfect conclusion to the The Testing series. Cia is tested yet again, but this time she isn't just trying to prove herself for the sake of her own life. This time, the future of the Commonwealth and that of future testing candidates, hinge on the decisions that Cia makes.
Exciting, suspenseful, unpredictable - these are just a few of the words I would use to describe this series. I have enjoyed it immensely. As I said in
my review
of The Testing, I love books with tests in them and I loved rooting for Cia throughout this journey. I think she is great. She is smart and strong, as well as grounded and good. And she is relatable. She questions herself, admits when she needs help, and stays true to her upbringing and true to herself. I loved watching the way her mind works, seeing how she comes to decisions, and watching her grow and rise to the occasion. My only reservation is that Cia can be so logical that sometimes the emotion doesn't come through.
In Graduation Day it is up to Cia to stop the rebellion. And to do that she needs to learn to trust. Cia is tested until the very end, therefore Charbonneau left me guessing until the very end. If you think you've got this book figured out, think again. Graduation Day is not without its share of surprises. You never know quite what the other characters are going to do or why. But things end well for this series, fitting even. And all loose ends are tied up.
Like the two books previous, there was never a dull moment in Graduation Day. I highly recommend this series to fans of dystopians, strong heroines, and gripping plots.