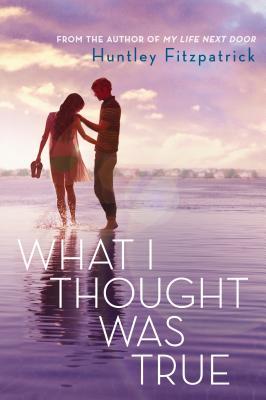 Title:
What I Thought Was True
Author:
Huntley Fitzpatrick
Publisher:
Dial Books
Release Date:
April 15, 2014
Pages:
416
Source:
Purchased
Summary from Goodreads:
Gwen Castle's Biggest Mistake Ever, Cassidy Somers, is slumming it as a yard boy on her Nantucket-esque island this summer. He's a rich kid from across the bridge in Stony Bay, and she hails from a family of fishermen and housecleaners who keep the island's summer people happy. Gwen worries a life of cleaning houses will be her fate too, but just when it looks like she'll never escape her past—or the island—Gwen's dad gives her some shocking advice. Sparks fly and secret histories unspool as Gwen spends a gorgeous, restless summer struggling to resolve what she thought was true—about the place she lives, the people she loves, and even herself—with what really is.
Review
It is no secret that My Life Next Door is one of my all-time favorite contemporaries. So naturally I was super excited to read Huntley Fitzpatrick's new book. And while What I Thought Was True had many similar elements to MLND that made me enjoy it, it fell short of that same awe and perfection to garner full blown LOVE.
My primary criticism with this book is that I found it to be mildly confusing. Not only were the flashbacks not in chronological order so that I had a hard time placing events, but also I felt that it took too long to have all of the information. I struggled to understand the source of tension between Gwen and Cass and the why behind their actions, which left me feeling a little detached for a large portion of the story. And I have to agree with some others that the explanation was not the most sound but I took it as your typical YA lack of communication. Also, there were some small things that I would change if I could - like, I think Gwen objectified herself more than others did, and I would have preferred a certain someone not have made a big mistake with another certain someone - things like that.
But in pretty much every other way I enjoyed this book.This is Huntley Fitzpatrick we are talking about, after all.
One of my favorite things about Huntley's writing is that she tells so many different stories at once. Her secondary characters are not mere plot accessories, but rather tools that lend diversity and fullness to the story she is telling. By giving them stories as well, she touches on a variety of themes/issues, many of which are relevant to young adults but not often seen in YA. This novel was refreshing in that light. She also manages to keep things real. It's easy to want everything to work out perfectly but that's not how life works. Not everyone gets a happy ending but everyone winds up in the place that seems right for them. I respect this.
As is Huntley Fitzpatrick's way, this book was easy to read, charming in more ways than one, and incredibly well rounded. There is a wonderfully variety of characters that are multidimensional and flawed, yet likably so. There is a strong focus on family, of the non-traditional sort. And the story is full, emotional and thought-provoking
It wasn't perfect but I will always recommend Huntley Fitzpatrick.
And thanks to Pam at [YA] Escape from Reality for hashing this one out with me!