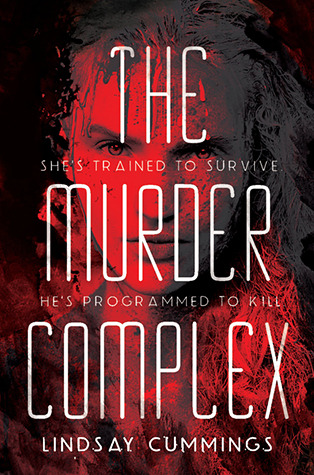 Title:
The Murder Complex
Series:
The Murder Complex #1
Author:
Lindsay Cummings
Publisher:
Greenwillow Books
Release Date:
June 10, 2014
Pages:
400
Source:
Publisher, EW
Summary from Goodreads:
Meadow Woodson, a fifteen-year-old girl who has been trained by her father to fight, to kill, and to survive in any situation, lives with her family on a houseboat in Florida. The state is controlled by The Murder Complex, an organization that tracks the population with precision.

The plot starts to thicken when Meadow meets Zephyr James, who is—although he doesn't know it—one of the MC's programmed assassins. Is their meeting a coincidence? Destiny? Or part of a terrifying strategy? And will Zephyr keep Meadow from discovering the haunting truth about her family?
Review
The Murder Complex is a (very) fast-paced story with lots of action and intrigue that immediately captured and held my attention. The world that Lindsay Cummings created is terrifying and the roles that both Meadow and Zephyr play, with regards to both The Murder Complex and each other, made for a compelling storyline. Meadow was a total badass (my favorite kind of MC) and I loved watching her square off against any threat she faced, including Zephyr. I read in a state of nervous excitement as I rooted for Meadow to survive, but all the while I sympathized with Zephyr and the other MC assassins.
But what The Murder Complex lacked, and the ultimate reason for my slightly below average rating, was development. This story really could have benefited from more character development and world building in the beginning. I never felt like I really got to know Meadow or Zephyr, so my connection with, and feelings for them, could only go so far. Same goes for the setting in that I needed more. From what information we do get, I could sense that it was a dangerous and horrible place but I never fully grasped what it was like or how things operated so it was all a little lost on me. I never thought I'd say this, but I think the fast pace worked against this story.
Don't be deceived by the 400 page count up there, the chapters are very short and this book reads VERY quickly. I flew through it.
I also had some (minor) problems with the second half of the story. Whether it was insta-love or a really strong connection - something formed between Zephyr and Meadow way too quickly for my liking. And then there was this uncomfortable interaction and exchange of feelings between Meadow and a certain character I cannot name, which I didn't get. And lastly, the ending was a bit info-dumpy and i'm not sure how I feel about the explanation that was given. But I understand readers will take to these things differently. I just wanted to explain what didn't work for me.
I thought The Murder Complex would be the perfect book for me, but what I liked about it was overshadowed by what I found missing. It had my attention while reading, but I finished feeling a little underwhelmed. Maybe my expectations were too high, and in that case, hopefully this review will correct that for you. I can see fans of Sci Fi/Dystopian and lots of action liking this one more than I did. The story has promise, it just hasn't left a lasting impression on me.