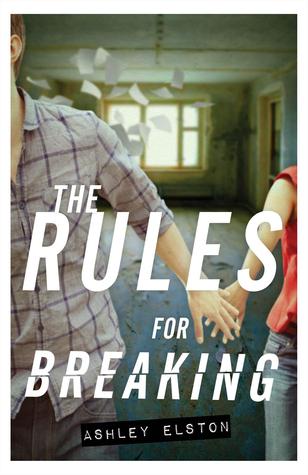 Title:
The Rules for Breaking
Author:
Ashley Elston
Publisher:
Disney Hyperion
Release Date:
May 20, 2014
Pages:
320
Source:
ARC, ALA
Summary from Goodreads:
Anna Boyd almost lost her life to get what she wanted most in the world: freedom.

But just when it seems that her family has finally escaped Witness Protection, the illusion that Anna could resume a normal life comes crashing down.

The deadly man Anna knows as Thomas is still on the loose, and now he's using her as a pawn in a dangerous game with the drug cartel determined to silence her forever. When Thomas and a mysterious masked man capture not only Anna but also her fragile younger sister and her boyfriend, Anna decides it's time to break all the rules-even if it means teaming up with the lesser of two evils.

Anna will do whatever it takes to protect the people she loves and win her life back once and for all. But her true enemies are hidden in plain sight. Before long, Anna will learn that putting her trust in anyone may be the last mistake she ever makes.
Review
I liked The Rules for Disappearing well enough – interesting premise, plot and pacing - but The Rules for Breaking was much more fun, much more engaging, much more my kind of book.

Anna is thrust into the middle of a dangerous power struggle and no matter how hard she tries to take control of the situation, the bad guys always seem to be a step ahead. I love these kind of stories. The stakes are high. People are bound to get hurt. Everyone is trying to out-maneuver everyone else. You can't trust anyone. And just when you think you understand everyone's motives, and have a sense of how things are going to go down, something happens or is revealed that changes everything. I don't know how believable the events in this story were, but this book was undoubtably unpredictable and exciting.

And there were a few other little details to complement all the excitement. This sequel takes place in New Orleans. And although the setting wasn't given a ton of attention, it still added a certain spooky feel to the story. And in their captivity, the girls found letters in the ceiling that belonged to a young girl who was locked away in that same attic many years ago, whose story was a local legend. Not only am I fascinated with old stories and things but this kind of detail is a definite plus for me.

Teeny, and Anna's protectiveness of her, warmed my heart as usual. I found Anna to be quite resourceful in this sequel, which did make me like her more than I had in The Rules for Disappearing. But Anna and Ethan still don't spark any strong emotion in me, individually or together. But I didn't not like them. I wouldn't exactly call this a shortcoming, it just didn't add to the story for me.

The Rules for Breaking was a strong sequel to finish off a welcomely different story. I definitely recommend this duology.

PS: These duologies lately are just kicking trilogy ass.